Hello stampers! The new Line Art Stamps are proving to be very popular, especially with those who love to colour. Today we are sharing projects using Cherry Apple Lady!
Dawn Lewis coloured her with Copic markers in the sample above to give her a fun quirky look!
Robyn Wood has used Copic Markers to colour Cherry Apple Lady - check out this great card: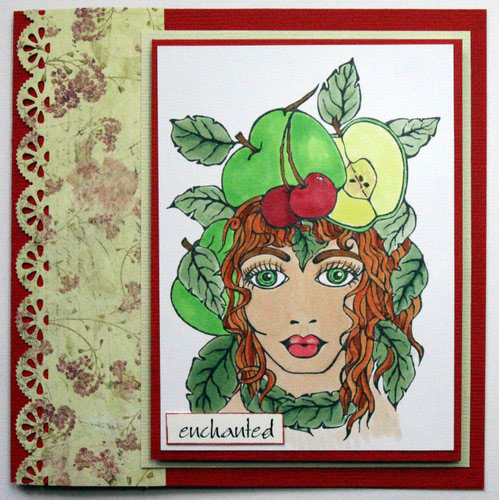 Stamp the lady image onto X-Press It Blending Card using Momento black ink. I used Copic markers to colour the image, start with the face and gradually build colour until you are happy with it. Then look carefully at the rest of the image to pick out which parts are hair, leaves and fruit. There are a myriad of different combinations of Copic colours that you can use for colouring hair and skin – have a play and use what you have. Don't forget that Copic markers can also be combined with other markers if you need extra colours. Add the catch lights in her eyes at the end using a Sharpie White Paint Pen. I used the following colours for my lady:
• Face – E11, E30, E33, R20
• Eyes/lips - R35, YG06
• Hair – YR18, E19, E97
• Apples – YG00, YG06, YG07, YG21, E37, E11
• Cherries – R37, R46, R59, E37
• Leaves – G14, G21, G24, G28
Once coloured, trim the lady and mount flat onto a layer of red cardstock and then onto a pale green layer with foam tape. Affix to the card front along with a punched strip of patterned paper. A word trimmed from your favourite Darkroom Door Wordstrips finishes the card.
Hints
• Build colour gradually and allow to dry so that the true amount of shading can be seen. Copics tend to lighten a little once dry.
• If you would like a shaded, more realistic image, take the direction of light from the top, right hand corner. Sometimes the image will give you a hint on where light might be coming from – in this case the catch light on the cherries gives it away.
• Look carefully at the image before starting to colour. It can be difficult to be sure with a black and white image which parts are face/hair/fruit so try colouring a rough practice image first.
• A tiny dot of white paint or liquid paper will work for the catch lights in her eyes if you don't have a paint pen.
Lucrecia de Silva, the artist who illustrated these fabulous designs also shares a handmade card with us using her Cherry Apple Lady: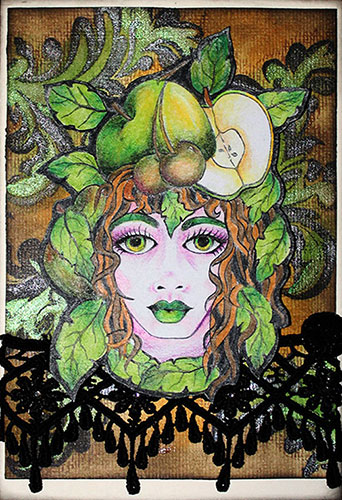 These are just some of the possibilities using this fabulous stamp! We hope this inspires you! We will be sharing projects all this week using the other Lady Line Art Stamps so please check back soon to see what we have created with Strawberry Lady!
Unlock the artist within!
Cherry Apple Lady - Line Art Stamp