Hi, it's Liesbeth here today! I'd like to show you something I made using the Celebration Rubber Stamp Set. These stamps really make me happy! I'm also addicted to the small milk cartons die by Sizzix, they are perfect as a gift wrap for a little present for someone who's celebrating!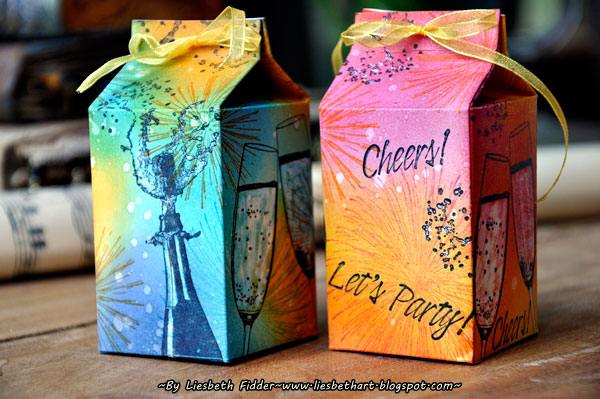 Instructions:
1. Cut out of white cardstock the milk carton using the Sizzix die and your cutting/embossing machine. It's so very easy as the score marks are embossed into the cardstock when you run the die through the machine, so it cuts and embosses it at the same time!
2. Sponge some areas with Wild Honey Distress ink, use a lot of ink to create beautiful bright colours. Sponge the other areas with Picked Raspberry and Carved Pumpkin Distress Inks, and let the colours overlap a bit. Spray a little bit of water into your hand, and clap your hands above the paper. Dab the water drops off with a kitchen paper, wonderful spots (stars!) will appear.
3. Stamp the entire piece with the fire work from the Celebration stamp set, using pink and orange Distress inks again.
4. Stamp with black StazOn ink: the glasses and some texts, and here and there some of the bubbles of the bottle stamp as well. Now carefully 'paint' some parts of the images with undiluted bleach. Don't use to much, as you don't want to make everything snow white, just some accents. I always work with a bleach-filled water brush! Let dry well. Fold the scored lines and add tape on the glue strip. Glue the bottom of the milk carton and assemble the upper side. Punch holes in the top edge and finish the piece with a piece of ribbon.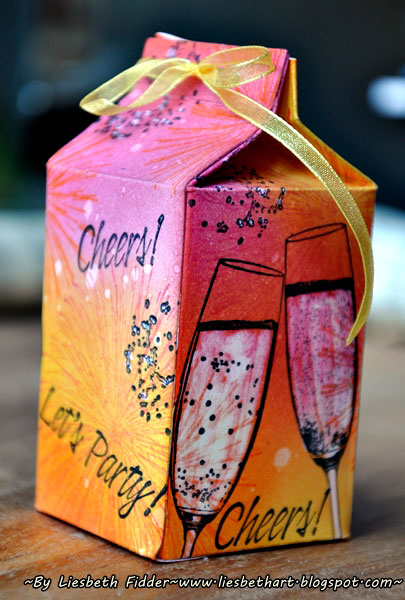 The yellow/blue carton is made the same way, I used the Distress inks Wild Honey, Carved Pumpkin, Mermaid Lagoon and Chipped Sapphire. Instead of the texts I stamped the champagne bottle.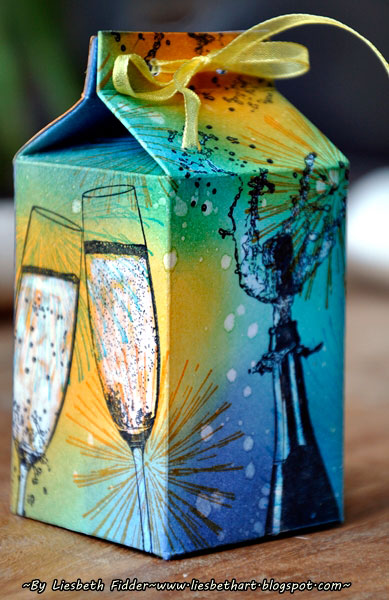 Supplies used:
Darkroom Door Celebration Rubber Stamp Set
Sizzix Thinlits die: Box, Milk Carton (+ die cutting machine)
White cardstock
Ink Blending tool
Distress ink: Wild Honey; Picked Raspberry; Carved Pumpkin; Mermaid Lagoon; Chipped Sapphire.
Mini mister
StazOn ink: Jet Black
Bleach + small synthetic brush (or waterbrush)
Adhesive tape or glue
Hole punch
Piece of ribbon

Hope you like this small milk cartons, see you next time!

Liesbeth X
Celebration Cartons