Hi, my name is Heather Telford and I am happy to be sharing some butterfly themed cards with you today. I used the Butterfly Garden Border Stamp to create two emboss resist cards. The stamp is a long one designed with journals and scrapbook pages in mind but it works beautifully for cards too.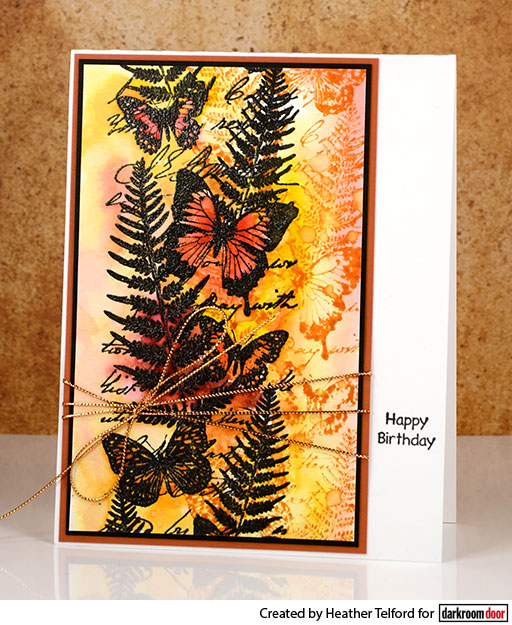 For both of today's cards I started by stamping on hot pressed watercolour paper with versafine onyx black ink then embossed in clear powder. On the warm autumn toned card I stamped the butterfly border stamp again but this time offset to the right and lower in spiced marmalade distress ink. I then used several distress stains to paint colour over the whole panel. Most of the painting is abstract but I did apply darker colour inside the embossed butterflies to make them a little more prominent. Once the panel was dry I splattered some water droplets here and there and trimmed the panel to fit an A2 card. I matted with black and rust cardstock then wrapped some gold cord around the panel before attaching it to a natural card base next to a tiny happy birthday sentiment.

Supplies Used:
Darkroom Door Butterfly Garden Border Stamp
Darkroom Door Happy Birthday Rubber Stamp set
Versafine onyx black ink
Clear Embossing Powder
Spiced Marmalade distress ink
Distress Stains: Spiced Marmalade, Barn Door, Rusty Hinge, Scattered Straw, Aged Mahogany
Gold cord
Hot pressed watercolour paper
Natural, black and rust cardstock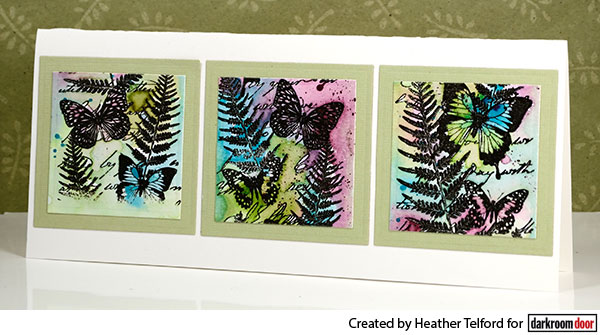 My plan for the second card was always to slice it up into panels. It's a big stamp so to use most of it on a card I had to work out a layout to make that happen. The card is quite wide and fits in a business envelope. Once again I started with the image stamped in black and embossed in clear on watercolour paper. I taped down the panel to keep it from warping then painted distress stains over the whole area tipping and tilting the panel to let colour spread around the embossing. I used a fine paintbrush to fill a couple of the butterflies. When the panel dried I splattered some stain over it so I would have some pink, blue and green droplets here and there. I used dies to cut squares from the panel and from a piece of textured green cardstock then attached them to the wide natural coloured card base.

Supplies Used:
Darkroom Door Butterfly Garden Border Stamp
Versafine onyx black ink
Clear Embossing Powder
Distress Stains: Broken China, Seedless Preserves, Salty Ocean, Peeled Paint
Hot pressed watercolour paper
Natural and green cardstock

Thanks so much for stopping by today!
Butterfly Garden Border Stamp Cards