Hello Darkroom Door fans! It's Belinda Spencer here with you today to share an art journal page featuring the fabulous new Small Stencil Butterflies. The idea for this art journal spread began with me wanting to use the butterfly stencil as wings for a cute vintage girl die-cut. I then needed to ground her by sitting her on something and the book stack was the perfect size. I then began flicking through an old Smash album I had in my stash and came across a bookshelf page. Perfect! That then made me think about all of the amazing books full of everything you can imagine and more in a library which pretty much gave me free reign to use as many stamps as I liked!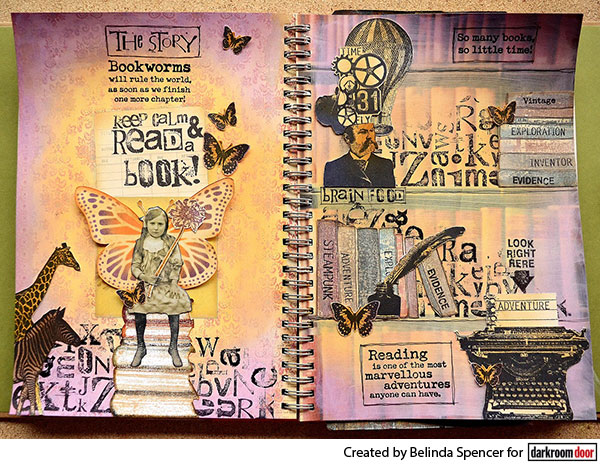 Instructions:
1. Place the Butterflies Small (outer) Stencil over a piece of smooth white cardstock. Tape the stencil in place with a little washi tape to secure if you need to. Apply Brushed Corduroy Distress Ink using an ink blending tool.

2. Now add the inner stencil and secure with washi tape. Using the ink blending tool again, apply Spiced Marmalade and Wilted Violet Distress Inks. Remove the inner stencil.

3. Lightly trace around the edge of the outer stencil. Remove the stencil and fussy cut the butterfly. Ink the edges with the Spiced marmalade ink. Add to the back of the die-cut girl.

4. Use a stamping platform to firstly stamp the stacked books using Tree Branch Archival Ink onto smooth white cardstock. Then use Faber-Castell Pitt Artist 'Big Brush' Pens to colour the spines of the individual books and re-stamp.

5. Ink the pages of your art journal using the same inks as for the butterfly wings.

6. Add some stamping to the background pages using the Alphabet Background Stamp and Jet Black Archival Ink. For this project I used the stamp without an acrylic block. I inked the stamp haphazardly and lifted the edges of it so that I wouldn't get full contact. This gives a more random stamping effect.

7. Apply various stamps of your choosing on smooth white cardstock using the same Jet Black ink. Ink with the Brushed Corduroy ink, fussy cut and add all images to the page. Add some quote stamps too.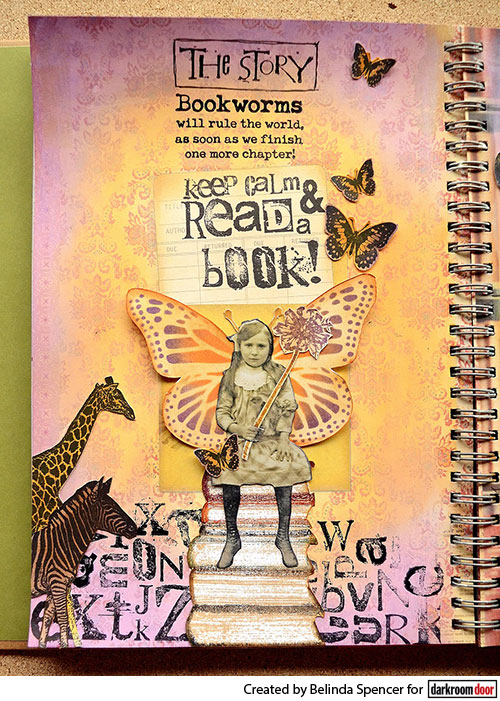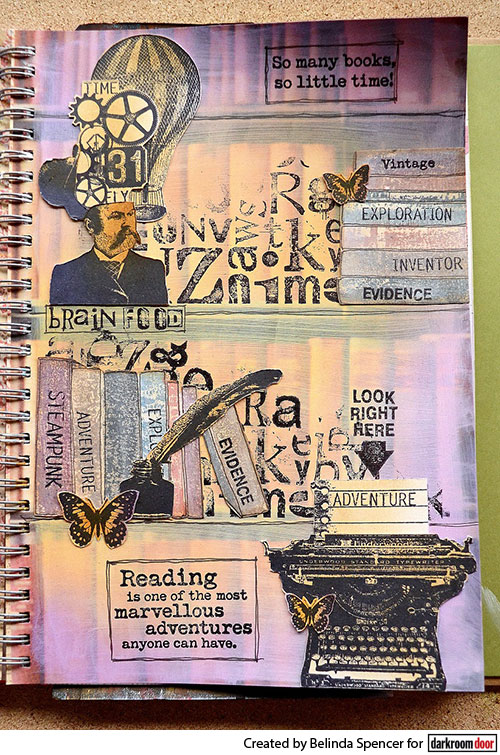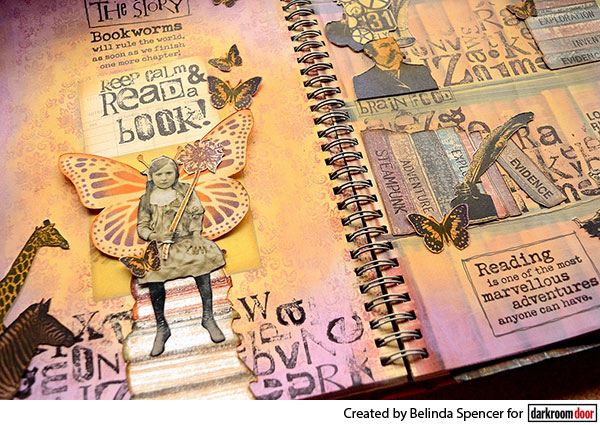 Supplies used:
Darkroom Door Small Stencil - Butterflies
Darkroom Door Alphabet Background Stamp
Darkroom Door Butterflies Rubber Stamp Set
Darkroom Door Alphabet Medley Rubber Stamp Set
Darkroom Door Photography Rubber Stamp Set
Darkroom Door Vintage Automobiles Rubber Stamp Set
Darkroom Door Hello Baby Vol. 2 Rubber Stamp Set
Darkroom Door Steampunk Rubber Stamp Set
Darkroom Door Bold Blossoms Rubber Stamp Set
Darkroom Door Vintage Office Rubber Stamp Set
Darkroom Door Everyday Life Rubber Stamp Set
Darkroom Door Bookworm Rubber Stamp Set
Darkroom Door Wild Africa Vol. 1 Rubber Stamp Set
Archival Ink: Jet Black, Tree Branch
Distress Ink: Brushed Corduroy, Spiced Marmalade, Wilted Violet
Faber-Castell Pitt Artist Pen "Big Brush": 118 Scarlet Red, 133 Magenta, 146 Sky Blue, 178 Nougat, 199 Black

I hope you are feeling inspired by my project featuring this fun new stencil to give it a try yourself. I absolutely love how well all of the various Darkroom Door products co-ordinate with each other. It makes it so easy and so fun to create art journal spreads as well as any other project you can think of.

Thanks for stopping by the blog today.

Belinda
Butterflies & Books Art Journal Page