Hello stamping friends! It's Teresa Abajo here to share a couple of projects I made using the new Bunting Border Stamp.

The first thing I need to say is that these stamps are BIIIIG! They're big enough to go across an entire 12" x 12" page, so that's super handy for scrapbookers and us art journalers. There's a dedicated stamping block available too, so they're as easy to use as any smaller stamp.

My first project is an art journal page: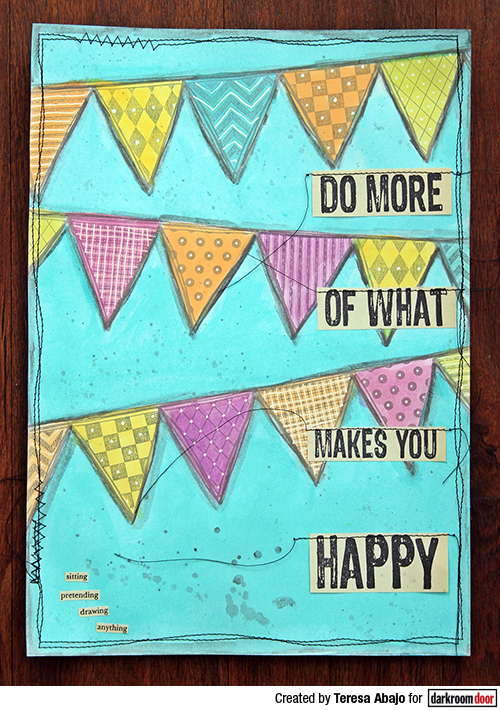 I stamped the bunting across my A4 page three times, then with the help of three large Post-It Notes, I masked off each pennant and stamped a Texture stamp pattern into it. The page was then coloured with watered down Dylusions paints: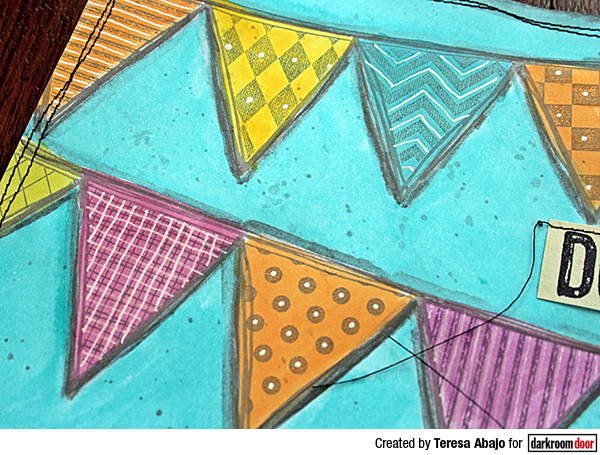 I decided to add some words, so I stamped the Happy Quote stamp onto a blank page from an old book. I glued these on, then decided to drag out the sewing machine and add some stitching. I then found some "-ing" words in the text of the book, cut them out and stuck them on to the bottom left hand corner of the page: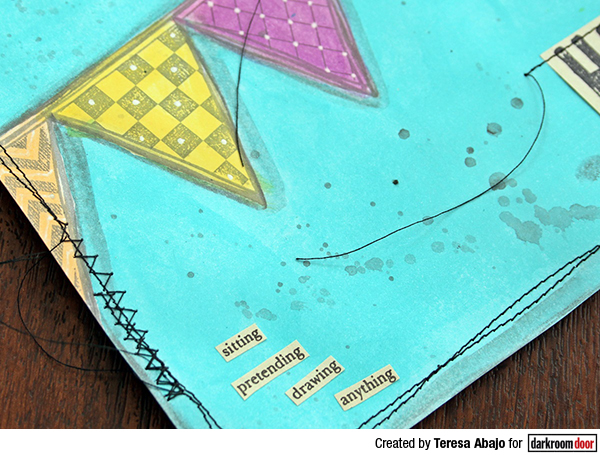 I traced around the page and each pennant with a water soluble graphite pencil, painted over this with an Aquash brush, and added some graphite spatters to the page to complete it.

Supplies used:
Darkroom Door Bunting Border Stamp
Darkroom Door Stamping Block 315 x 65
Darkroom Door Weathered Stripes Texture Stamp
Darkroom Door Harlequin Texture Stamp
Darkroom Door Chevron Texture Stamp
Darkroom Door Checkered Texture Stamp
Darkroom Door Criss Cross Texture Stamp
Darkroom Door Mesh Texture Stamp
Darkroom Door Dots Texture Stamp
Darkroom Door Happy Quote Stamp
Archival ink Jet Black
Dylusions Paint: Virbrant Turquiose, Bubblegum Pink, Crushed Grape, London Blue, Fresh Lime, Lemon Zest, Tangerine Dream
Aquash brush medium
General's Sketch & Wash pencil

My next project makes use of the large size of this stamp to create an extra large card - it measures 6" x 12" when folded. I often make these large cards for birthdays etc when the card is coming from a large group of people.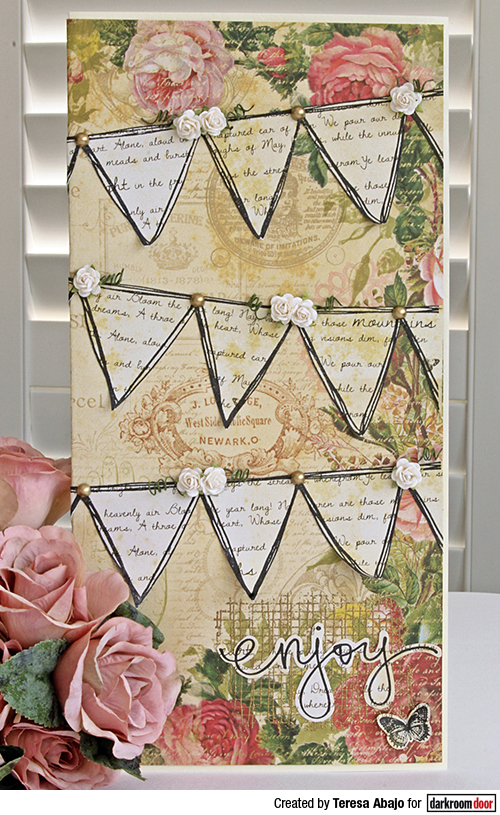 I folded a 12" x 12" piece of cream cardstock in half, then trimmed 1/8 inch off each side of some 12" x 12" patterned paper. I glued these together along the front near the spine, then stamped the Bunting border onto some coordinating patterned paper three times. I fussy cut each of these strips out, then stuck them to the card front and carefully wrapping each strip around the back of the card.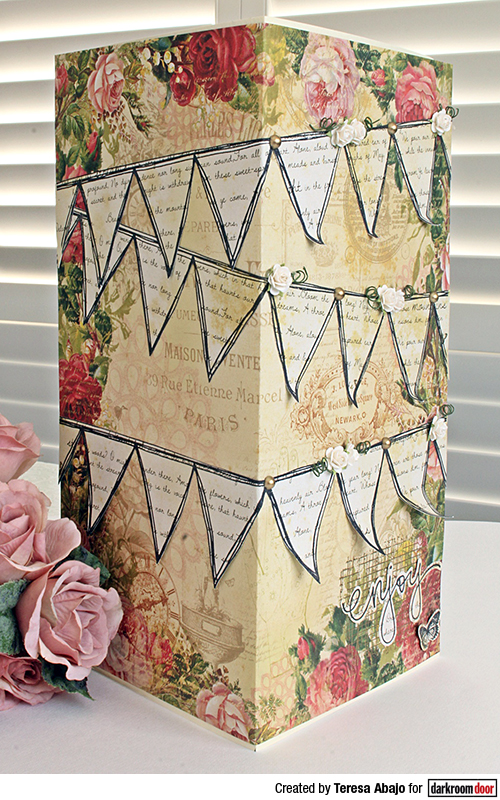 I then decorated the front with little roses and pearls. I stamped and gold embossed the Mesh Texture stamp, and added the 'enjoy' word and butterfly to the bottom right hand corner.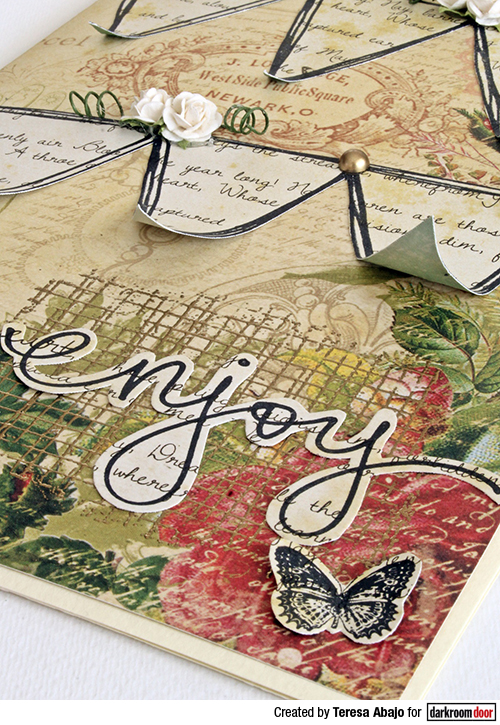 Supplies Used:
Darkroom Door Bunting Border Stamp
Dakroom Door Mesh Texture Stamp
Darkroom Door Whimsical Words Rubber Stamp Set
Darkroom Door Butterflies Rubber Stamp Set
Archival Ink Jet Black
Versamark ink
Gold Embossing Powder
Small white roses
Adhesive pearls gold
Patterned paper: Junque Gypsy by Marion Smith Designs
Cream cardstock

Thanks for stopping by!
Bunting Border Stamp Projects