Hi, Anneke De Clerck here with an art journal project I made using the brand new Bunting Border Stamp. I'm totally in love with this stamp! For this blogpost I did a festive spread in my large Dylusions journal but I'm looking forward making cards with this stamp as well. Lots of possibilities!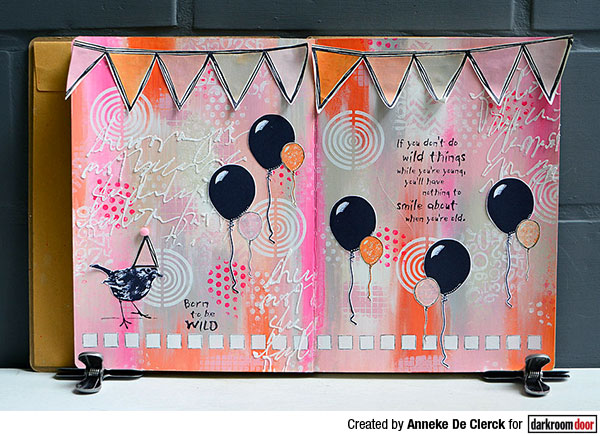 To create the background of these journal pages I used lots of Darkroom Door stamps. Hope I can give you a few ideas along the way of what's possible with the different texture, quote and background stamps.

Instructions: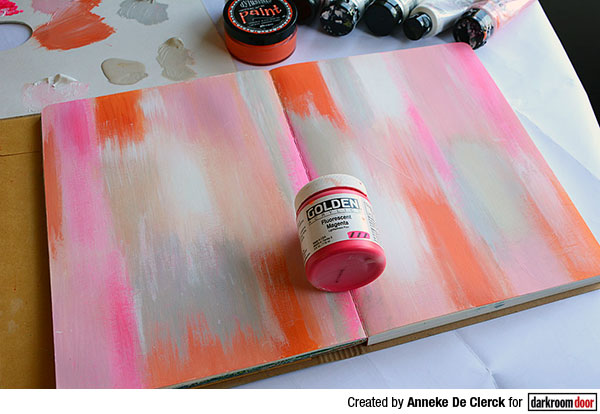 1. Cover both pages with gesso first. Apply buff, pink, grey, orange and fluo magenta paint using a flat brush. Soften the colour blocks with white paint using your fingers.

2. Add spirals and squares by sponging white paint through stencils.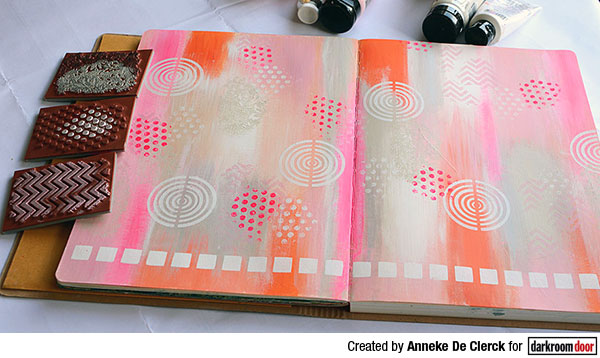 3. Stamp on top of the paint with the Dots, Chevron and Flower Garden Texture Stamps using white, magenta, pink and buff paint.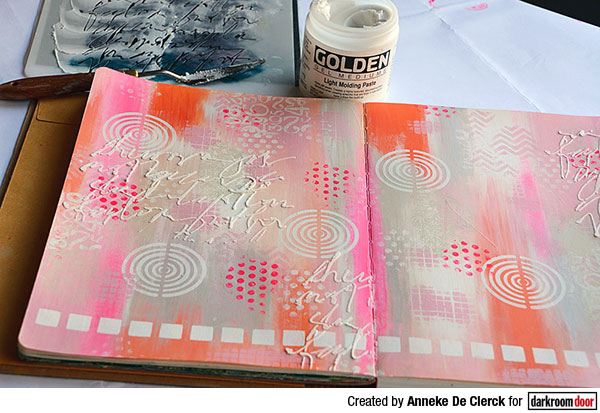 4. Create tiny pink squares by sponging through a stencil. Stamp numbers randomly using white paint and parts of the Numbers Background stamp. Add texture by applying light structure paste through a script stencil.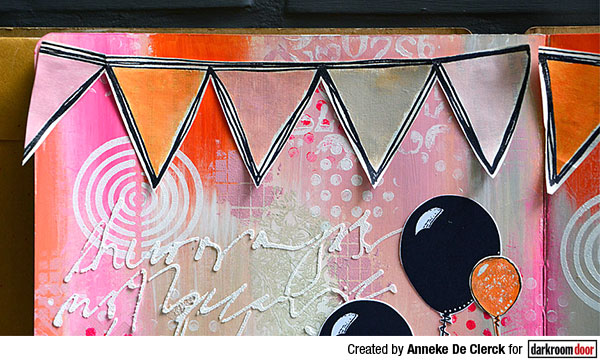 5. Stamp the Bunting Border Stamp twice with black ink on gesso-ed vintage book text. Colour the banner with acrylic paint, trim to size and attach to the top of both pages.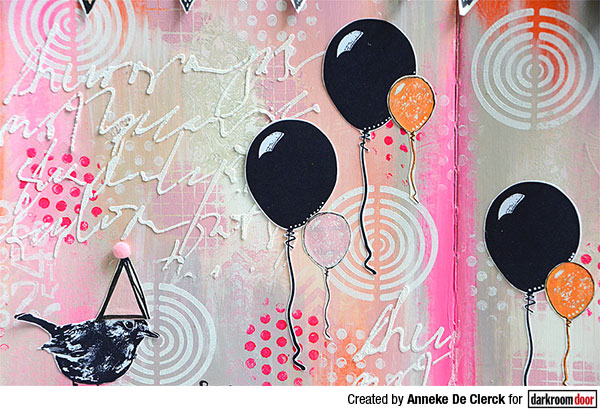 6. Stamp the large balloon 5 x with black ink on white paper and cut out. Stamp the small balloon 5 x with orange and pink paint on vintage book text and cut out. Arrange to the spread as shown.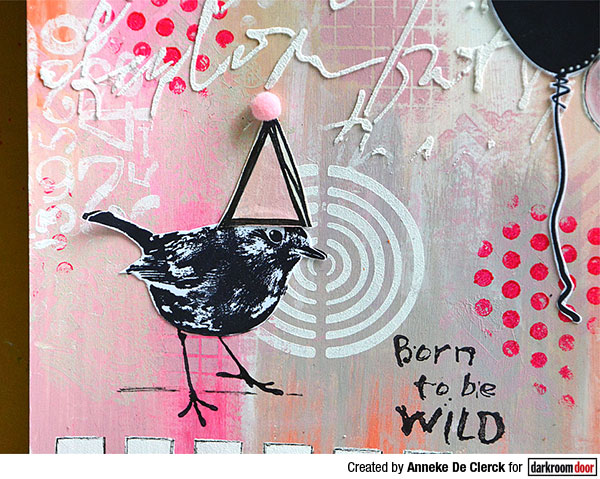 7. Stamp the robin with Archival Ink Jet Black on white paper and cut out. Use one of the leftover flags to create a hat. Finish off with a mini pompom.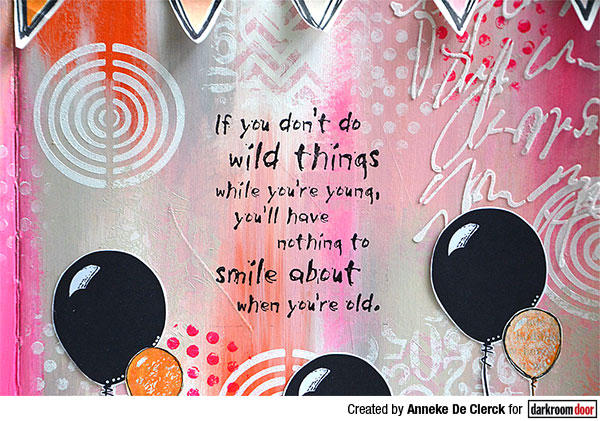 8. Stamp text using black ink. Add black and white details with pens.

Supplies Used:
Darkroom Door Bunting Border Stamp
Darkroom Door Dots Texture Stamp
Darkroom Door Chevron Texture Stamp
Darkroom Door Flower Garden Texture Stamp
Darkroom Door Numbers Background Stamp
Darkroom Door Wild Things Quote Stamp
Darkroom Door Robin Eclectic Stamp
Darkroom Door Wild Africa Vol 1 Rubber Stamp Set
Darkroom Door Party Time Rubber Stamp Set
Archival Ink: Jet Black
Dylusions Paint: Tangerine Dream
Talens Amsterdam Acrylics: Persian Rose, Titanium White, Titanium Buff Deep
Golden Heavy Body: Neutral Gray N8
Golden: Fluorescent Magenta
Tim Holtz Layering Stencil: Linen
The Crafter's Workshop: Mini Mosaic Squares
Dina Wakley Media Stencil: Bullseye
Donna Downey Signature Stencil: Script
Golden: Light Modeling Paste

Thanks for stopping by!
Bunting Border Party Theme Art Journal Page