Hello wonderful crafters! Teresa Abajo here to share a couple of projects I've made using the new Brick Wall Texture Stamp.

The bricks make a fantastic background for a wide variety of themes, and they're not gender or age specific, so they can be used for just about anything!

Here's my first card: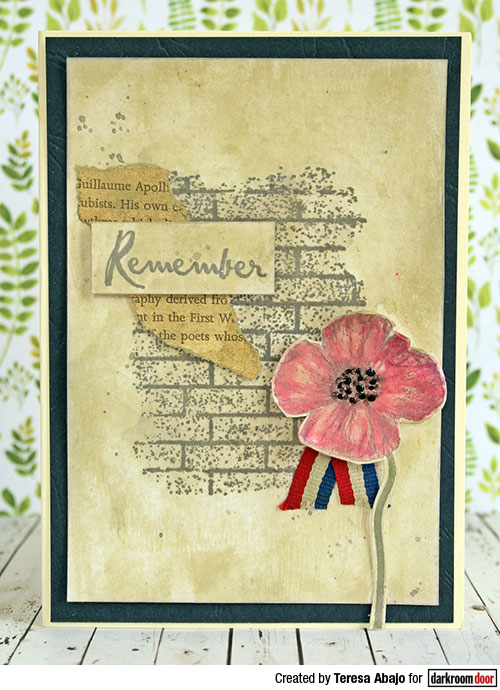 Stamp the Brick Wall Texture stamp in the centre of the card front with Archival Watering Can, then stamp the flower from the Poppies set and colour it with Dina Wakley's Scribble Sticks and a waterbrush.

Fussy cut the flower and adhere it to the bottom right of the card front, and stamp the word Remember, cut it out and adhere it to the top left hand side over a torn scrap of book page. Slip a scrap of ribbon under the flower.

Mix some Fossilized Amber Distress Paint with a touch of Black Soot, water it right down and paint over the whole card front to help it look aged.

Supplies Used:
Darkroom Door Brick Wall Texture Stamp
Darkroom Door Poppies Stamp Set
Archival Ink: Watering Can
Dina Wakley Media Scribble Sticks
Waterbrush
Ribbon
Distress Paint: Fossilized Amber, Black Soot

This second sample has the Brick Wall Texture stamp over some gel prints I made with the new Large Circles Stencil: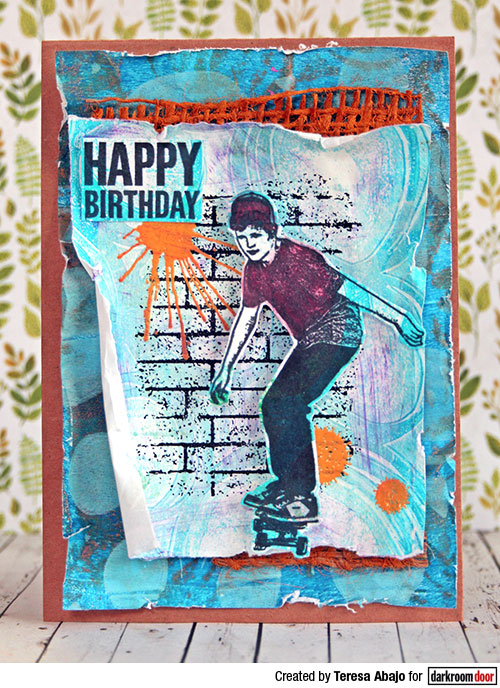 Stamp the bricks with Archival Jet Black, then stamp the skater image from the Skater set onto a lighter coloured gel print. Then fussy cut the skater.

Stamp a few splats from the Paint Splats stamp set with Versamark ink, and emboss them using yellow/orange embossing powder. Adhere the skater to this piece and stamp the sentiment from the Happy Birthday set and adhere this to the top left hand side.

Distress the edges of the gel prints and don't apply adhesive to them so they will roll up and create extra dimension. Painted scraps of hessian and adhere this under the edges at the top and bottom of the card front.

Supplies Used:
Darkroom Door Brick Wall Texture Stamp
Darkroom Door Skater Stamp Set
Darkroom Door Paint Splats stamp set
Darkroom Door Happy Birthday stamp set
Darkroom Door Large Stencil - Circles
Archival Ink: Jet Black
Embossing Powder: Yellow/Orange
Gel Press gel plate
Acrylic paints
Hessian scraps

Thanks for looking and I hope you will love the Brick Wall stamp as much as I do!
Brick Wall Texture Stamp Cards