Hello! It's Rachel Greig here today sharing 3 cards using the new Boxes series of Frame Stamp and Stencils! These stamp and stencil combo makes ink blending so easy!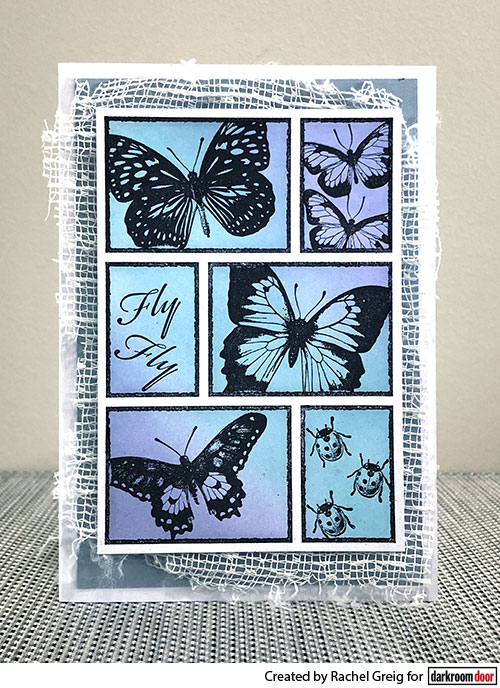 Instructions:
1. Stamp the Mixed Boxes Frame Stamp onto white yardstick using Archival Jet Black ink. Lay the matching stencil over the stamped image and place some washi tape on the sides to keep the stencil in place.
2. Using Distress Ink and an ink blending tool, sponge the ink over the stamped image, leaving some areas white. Change colours of ink and fill in the white areas until the entire piece is sponged with ink. For this card I used Shaded Lilac and Tumbled Glass Distress Inks.
3. Stamp inside the boxes using different stamps from the Wings stamp set. You can leave the stencil in place for this step, however if you are using larger stamps, sometimes it can be harder to press down onto the stencil to get a complete image, so it can better to use post it notes to mask the area if needed rather than using the stencil.
4. Remove the washi tape and lift off the stencil.
5. Adhere some textured mesh onto a white folded card. Adhere the stamped panel to the front to complete.

Here are some more cards using the Boxes 12up and Boxes 6up Frame Stamps and Stencils: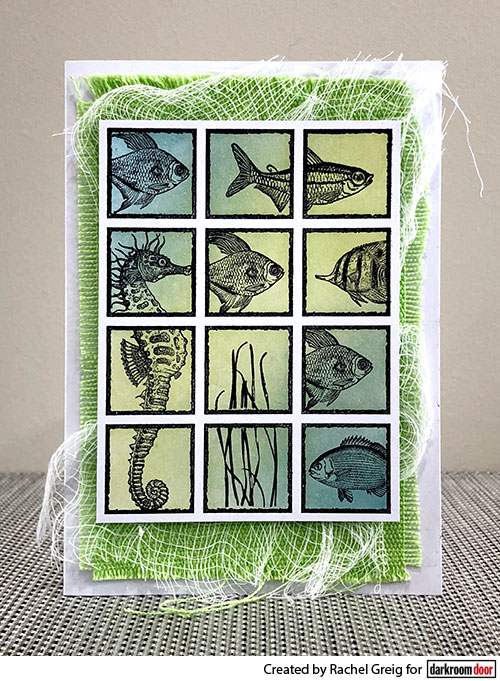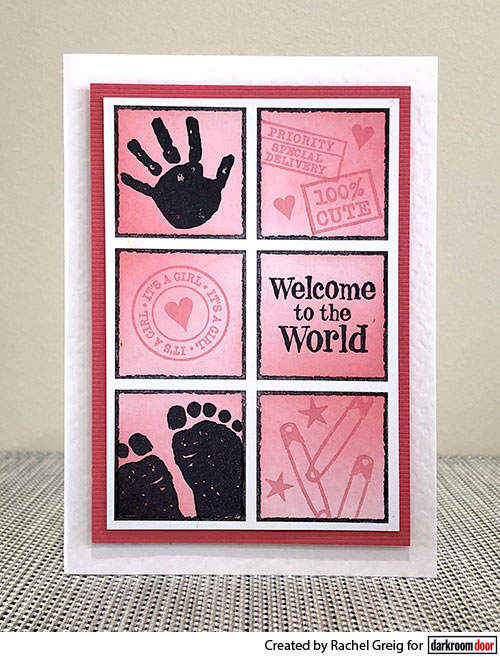 As you can see, you can create cards for all sorts of occasions using a variety of stamp sets!

Supplies used:
Darkroom Door Mixed Boxes Frame Stamp
Darkroom Door Boxes 12up Frame Stamp
Darkroom Door Boxes 6up Frame Stamp
Darkroom Door Mixed Boxes Stencil
Darkroom Door Boxes 12up Stencil
Darkroom Door Boxes 6up Stencil
Darkroom Door Wings Rubber Stamp Set
Darkroom Door Under The Sea Stamp Set
Darkroom Door Hello Baby Vol 1 Stamp Set
Darkroom Door Hello Baby Vol 2 Stamp Set
Distress Inks
Archival Jet Black ink

Thanks for stopping by!
Boxes Frame Stamp & Stencil Cards