Hello Stampers, it is Godelieve Tijskens today, sharing some ideas with the fabulous new Bottles stamp set.

First I have created an art journal page with the complete set:


Before I cut a set of new rubber stamps, I like to stamp the whole sheet a few times.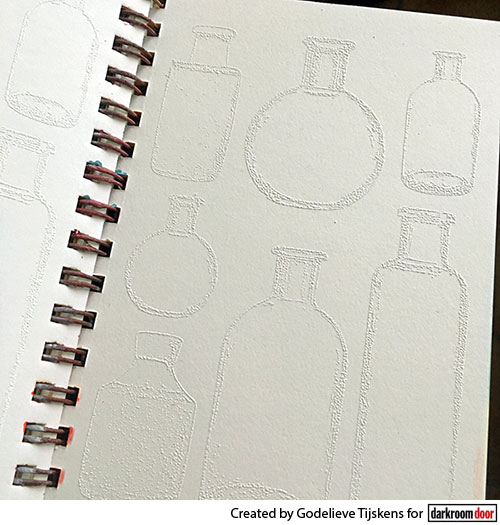 A sheet fits perfectly on a page in one of my journals. I stamped the bottles with Versamark ink and heat embossed with white embossing powder.

Next I used stamps from the Grunge Marks and Wings set to stamp and heat emboss onto the bottles.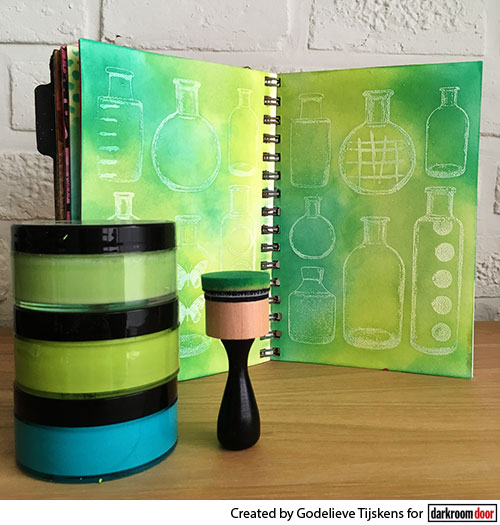 Using an ink blending tool and Dylusions paints I colored the pages. I used a paper towel to remove the paint from the embossed parts immediately, to keep the embossing white.

Garden Patina Archival ink was used to stamp the Grid Texture stamp and the butterflies.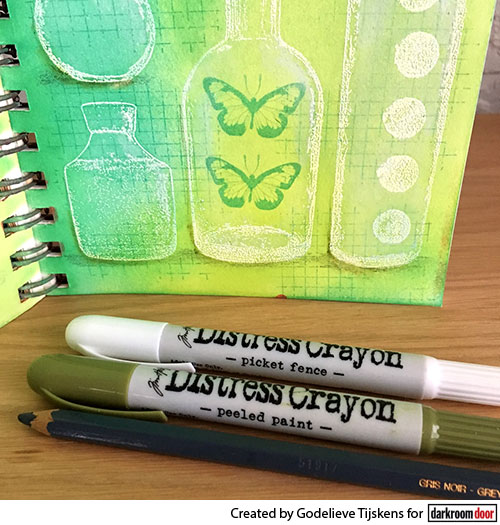 To add a lighter touch to the bottles I used a white Distress Crayon.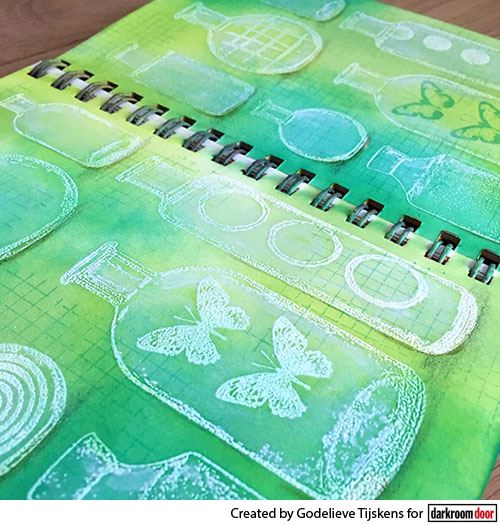 Shadow around and below the bottles was done with a Distress Crayon and a grey pencil.

From an early Darkroom Door stamp set, Ornate Elements, I used the numbers, stamped onto white cardstock with black Archival ink, cut out and glued in place.

Supplies used:
Darkroom Door Rubber Stamp Sets: Bottles, Grunge Marks, Wings, Ornate Elements
Darkroom Door Texture Stamp: Grid
Archival Inkpads: Garden Patina, Jet Black
Versamark Inkpad
WOW Embossing Powder Opaque Bright White
Dylusions Paints: Mushy Peas, Fresh Lime, Vibrant Turquoise
Distress Crayons: Picket Fence, Peeled Paint
Pencil
Strathmore Visual Journal

Darkroom Door has lots of beautiful flower stamps. On this card I used a favourite tulip stamp, also from an early Darkroom Door set, to put in a bottle.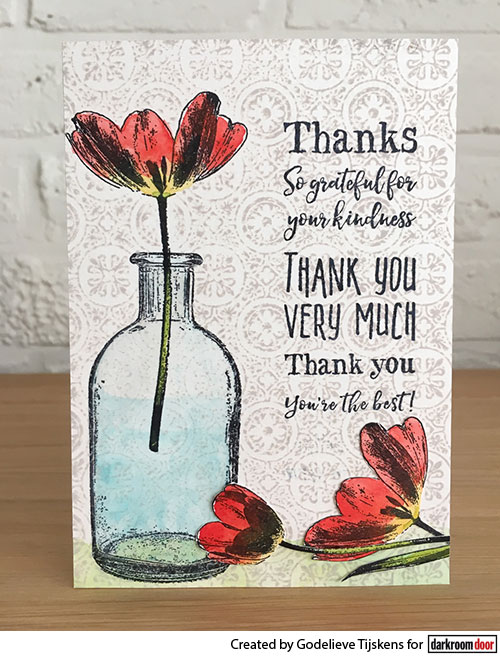 Black Archival ink was used to stamp the bottle and tulip onto watercolor paper.

Two more tulips were stamped on another piece of watercolor paper to cut out later.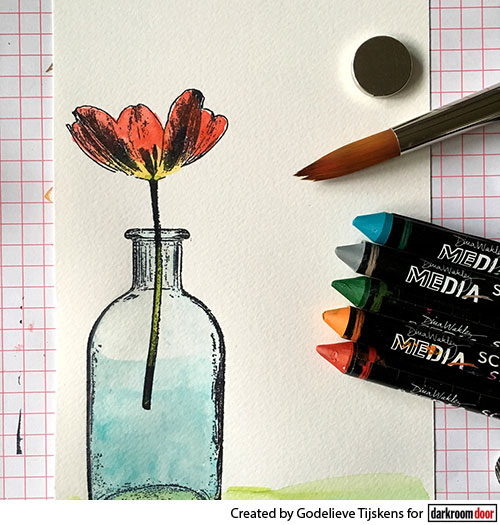 I watercolored the flowers and bottle with Dina Wakley Scribble Sticks by taking pigment from the sticks with a wet brush.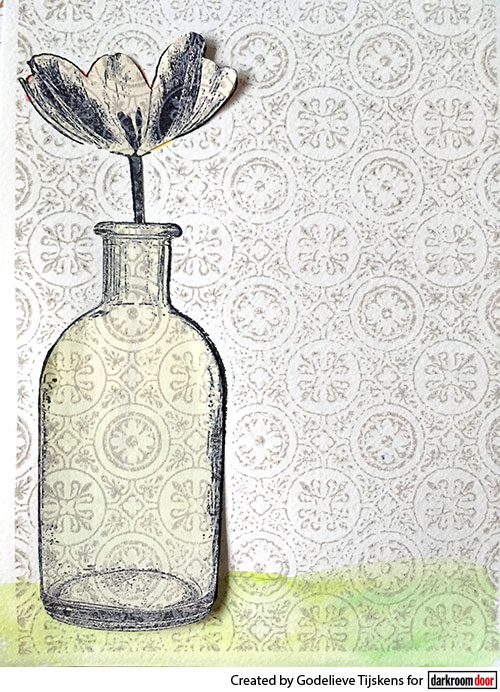 I covered the bottle and tulip with a mask to stamp the Spanish Tiles background with Distress Oxide Pumice Stone.

I removed the mask from the stamped bottle, and because I used a Misti, I was able to restamp the Spanish Tiles in exactly the same place, to get a subtle impression 'behind' the glass.

The card was finished off with the 2 cut out tulips, and by adding words from the Thank You Sentiment Stamps.

Supplies used:
Darkroom Door Rubber Stamp Sets: Bottles, Full Bloom Vol 1
Darkroom Door Sentiment Stamps: Thank You<
Darkroom Door Background Stamp: Spanish Tiles
Archival Inkpad: Jet Black
Distress Oxide Inkpad: Pumice Stone
Dina Wakley Scribble Sticks

On my next card I wanted to create ceramic vases instead of glass bottles.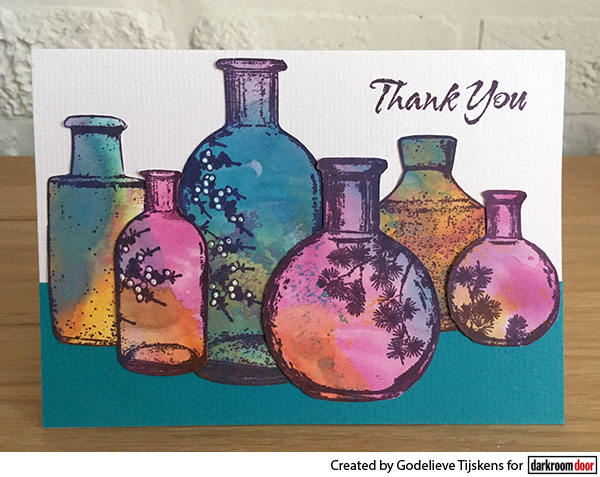 First I made a colorful background to stamp the bottles on.

I used Distress Oxide inkpads, pressed them onto my Tim Holtz glass media mat, sprayed water and put the watercolor paper in the puddle to pick up the ink. I repeated this a few times, drying the ink inbetween layers.

To stamp the bottles I used Thistle Archival Ink.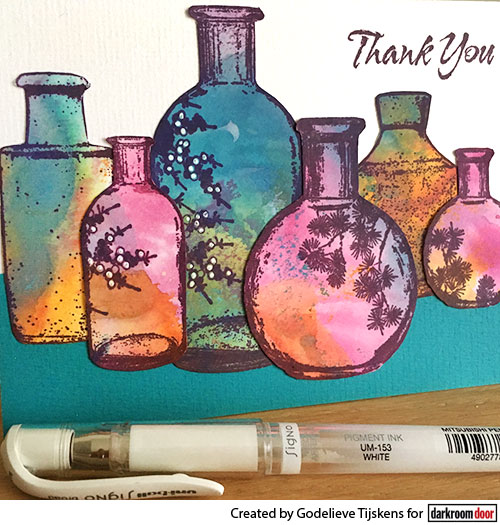 After I had cut out the bottles I used stamps from the Foliage set to decorate the bottles.

At the bottom of a landscape folded card I glued a strip of cardstock in a coordinating color and arranged the bottles on the card.

I added a saying from the Thank You stamp set, also stamped with Thistle Archival ink.

A white gelpen was used on the berries.

Supplies used:
Darkroom Door Rubber Stamp Sets: Bottles, Foliage, Thank You
Distress Oxide Inkpads: Carved Pumpkin, Broken China, Seedless Preserves
Archival Inkpad: Thistle
White Gel Pen Signo

I hope I inspired you with my projects.

Thank you for visiting the blog today.

Godelieve
Bottles Stamp Set Ideas