Hi! Belinda here today to share with you my bleach stamped ATC for the Darkroom Door 'Bleached Stamping" ATC swap combining different rubber stamp sets with inking, scrunching and distressing.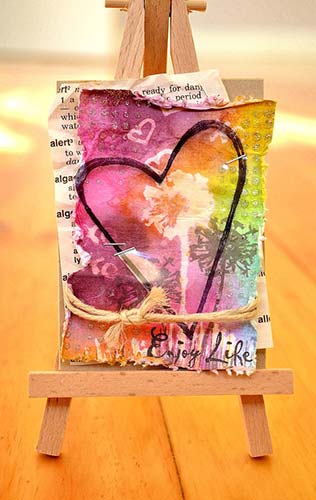 Instructions:

1. Take a 12" x 12" sheet of white cardstock and apply various Tim Holtz Distress Inks with an ink blending tool ensuring that you blend the colours into each other. I have used Mustard Seed, Peacock Feathers, Picked Raspberry and Seedless Preserves.

2. Sprinkle water over the top with your fingertips and then dry with a heat gun. This will help the colours blend together as well as give a lovely, water stained effect.

3. Cut the sheet into ATC size pieces and add more ink to them until you have the depth of colour required.

4. Using Watering Can Ranger Archival Ink, apply the dandelion stamp from the Bold Blossoms Rubber Stamp Set, twice to your atc. Also add some grass at the bottom of the piece using a stamp from the Brush Strokes Rubber Stamp Set.

5. Now you are ready to bleach stamp. Add approximately 4 sheets of paper towel to a ceramic/glass dish (one dedicated to using in your craft area and not for eating from!) Carefully pour on a little bleach so that your paper towel is soaked but not swimming in it. You may like to wear an apron for this to avoid any splashes of bleach on your clothes. Press the dandelion stamp into the bleach soaked paper towel and then stamp onto your atc. As it dries you will notice the image appearing. So fun! Add some hearts and 'xo' from the Hearts Rubber Stamp Set too.

6. Use a stencil to apply some Silver Viva Décor Glitter Paste around the edges of the piece and allow to dry. Add a sentiment from the Bold Blossoms Rubber Stamp Set.

7. Using Jet Black Ranger Archival Ink, apply a heart stamp from the Hearts Rubber Stamp Set onto a piece of transparency. Once dry, cut it out and staple onto the front of your stamped, inked piece. Tie some string around this piece too.

8. Layer this piece onto some crumpled book paper and then onto your atc base.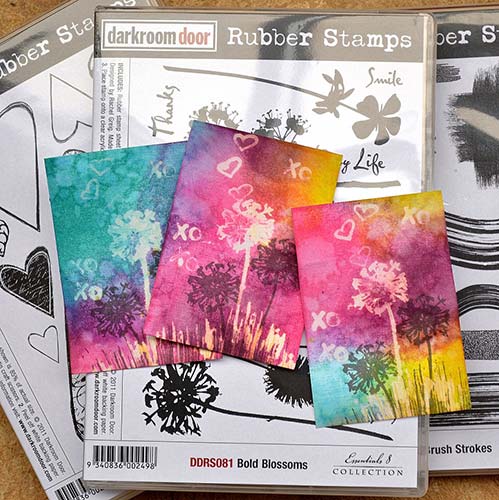 Supplies used:

Darkroom Door Brush Strokes Rubber Stamp Set
Darkroom Door Bold Blossoms Rubber Stamp Set
Darkroom Door Hearts Rubber Stamp Set
Darkroom Door Artist Rubber Stamp Set
Viva Decor Glitter Paste 902 Silver
Ranger Archival Ink: Jet Black, Watering Can
Tim Holtz Distress Ink: Mustard Seed, Peacock Feathers, Picked Raspberry, Seedless Preserves

Thankyou so much for stopping by the blog and checking out my ATC today.

Cheers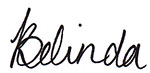 Bleach Stamped ATC