Hello! It's
Belinda Spencer
here with you today to share a layout featuring the fabulous new
Flower Bed Border Stamp
. This is just the most gorgeous stamp for adding wonderful detail to layouts, cards, art journal pages and more. Here I have incorporated the stamped image as an anchor for my photo and fussy cut elements using a watercolour look effect.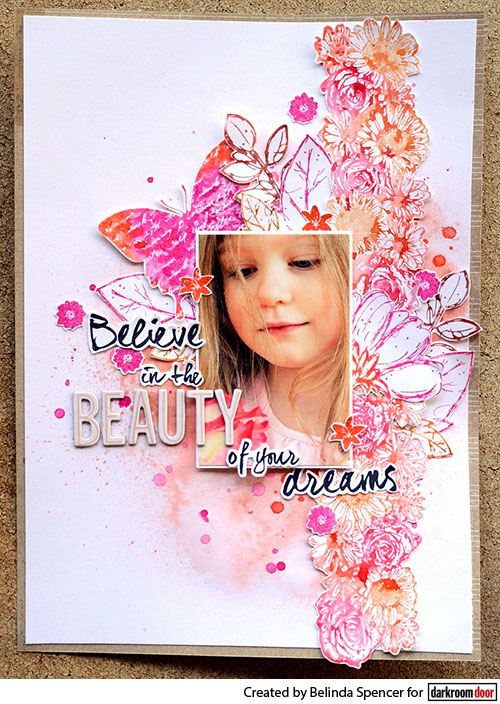 Instructions:

1. Crop a piece of kraft cardstock or patterned paper to 8½" x 11¾" to form the base of the layout.

2. Crop a piece of smooth white cardstock to 8¼" x 11½". Stick down on the kraft base. Spritz the page with water just in the main area of the layout where the photo and embellishments will sit. Spritz with a peach coloured spray mist. Flick some droplets of the colour over the top too. Set aside and allow to dry.

3. Select the spotty stamp from the Watery Washes Stamp Set and ink with Ripe Persimmon Distress Ink. Apply the stamp to the layout in a few places. Next apply the same stamp using Picked Raspberry Distress Ink.

4. Colour the Flower Bed Border Stamp with Faber-Castell Big Brush Stamper Pens. Try using a different colour for each style of leave. Here I have used Deep Scarlet Red, Scarlet Red and Orange Glaze. Spritz with water and then stamp on an extra piece of smooth white cardstock. Allow the image to dry completely before fussy cutting. Stick down on the layout using a strip of double sided tape just down the centre of the piece.

5. Stamp various other leaves and flowers on the extra white cardstock using a combination of the Big Brush Stamper Pens and the Distress Inks. Ink the Butterfly Note Eclectic Stamp using the Distress Inks, spritz with water and stamp on the extra cardstock. Allow all images to dry before fussy cutting. Add all of these elements along with the photo to the layout.

6. Stamp the Dreams Quote Stamp onto the extra cardstock using Jet Black Archival Ink. Fussy cut the words and stick down on the layout replacing the word 'Beauty' with lettering.

Supplies used:
Darkroom Door Flower Bed Border Stamp
Darkroom Door Dreams Quote Stamp
Darkroom Door Butterfly Note Eclectic Stamp
Darkroom Door Gardening Vol. 2 Rubber Stamp Set
Darkroom Door Watery Washes Rubber Stamp Set
Darkroom Door Fine Flowers Vol 1 Rubber Stamp Set
Darkroom Door Fine Leaves Rubber Stamp Set
Archival Ink Jet Black
Distress Ink: Picked Raspberry, Ripe Persimmon
Faber-Castell Big Brush Stamper Pens: 113 Orange Glaze, 118 Scarlet Red, 219 Deep Scarlet Red

I hope you are feeling inspired to create your own beautiful projects using this fabulous stamp.

Thanks for stopping by the blog today.

Belinda
Beauty Flower Bed Border Stamp Layout