Hello, It's Belinda Spencer here with you today to share two art journal pages and a large card I created featuring the gorgeous new Awesome Medium Stencil. Here I have used the whole stencil as the background of one art journal page and the card while on the other art journal page I have used sections of the stencil spread across two pages.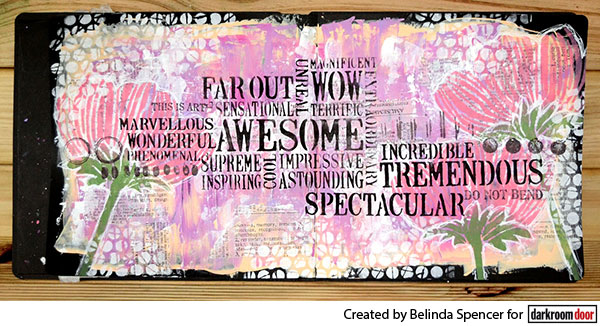 INSTRUCTIONS:

1. Create a background in your art journal using acrylic paints. Add some book paper or tissue wrap using a matte gel medium. Swipe some white gesso over the top using a palette knife.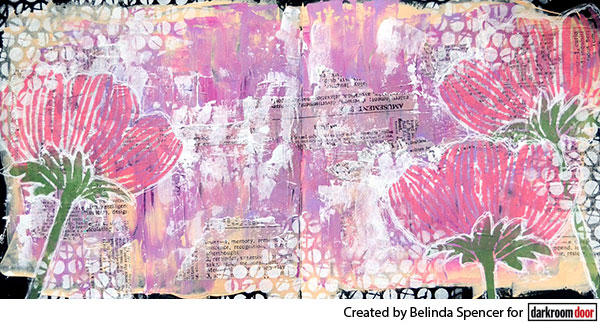 2. Add some gorgeous flowers to the background using the Carved Flowers Large Stencil and acrylic paints. Scribble around the edges using a fine white paint pen. Also add some stencilling using the Polka Dots Small Stencil and white gesso.

3. Next use heavy black gesso to stencil some 'awesome' words across the two page spread using the Awesome Medium Stencil.

4. Add some stamping using Jet Black Archival Ink and the Grunge Marks Rubber Stamp Set. Add some extra stamped words using the Mail Art Rubber Stamp Set.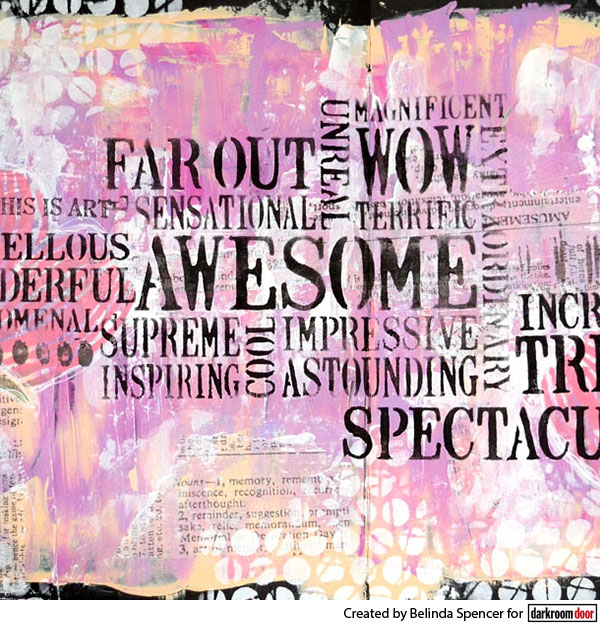 Supplies used:
Darkroom Door Medium Stencil: Awesome
Darkroom Door Large Stencil: Carved Flowers
Darkroom Door Small Stencil: Polka Dots
Darkroom Door Mail Art Rubber Stamp Set
Darkroom Door Grunge Marks Rubber Stamp Set
Archival Ink Jet Black
Acrylic paints
Gesso – white and black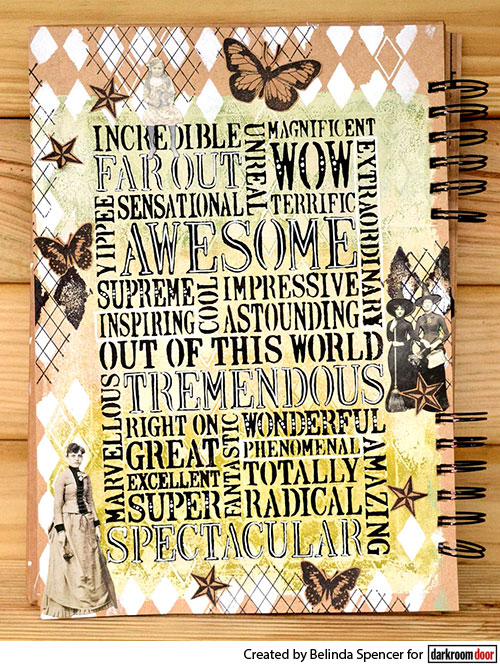 Instructions:

1. Use a gel press and acrylic paints to add a lovely background for your art journal page. Add some stencilling using the Diamonds Large Stencil and white gesso. Add some doodling using a fine white paint pen.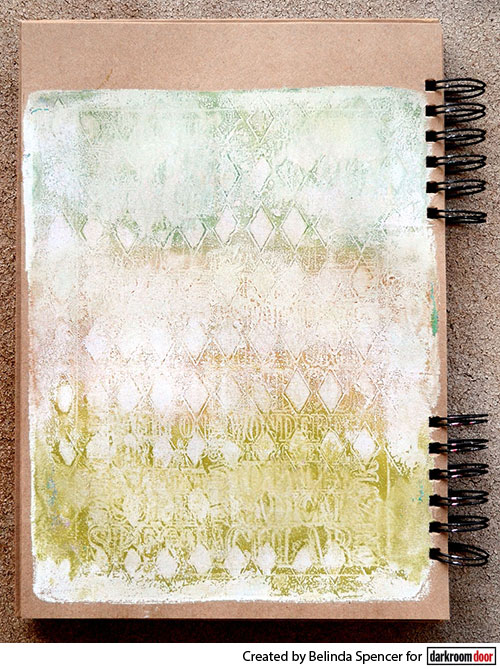 2. Add the Awesome Medium Stencil to the page and secure in place using washi tape. Apply heavy black gesso over the stencil using a latex make-up wedge. Allow the paint to dry completely. Add some doodling to the words using the paint pen.

3. Add some stamping around the edges using the Criss Cross Texture Stamp and Grunge Marks Rubber Stamp Set with Jet Black Archival Ink.

4. Stamp some butterflies and stars on matching background paper using the Jet Black ink. I used a kraft art journal and therefore stamped my images on a page torn from the journal so that the paper matched. Fussy cut the images and add to the page along with some vintage ladies.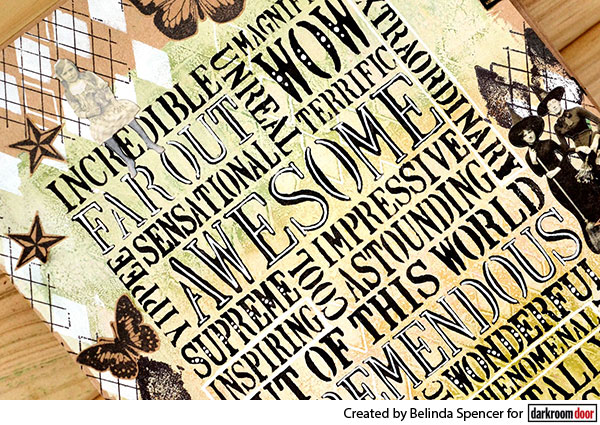 Supplies used:
Darkroom Door Medium Stencil: Awesome
Darkroom Door Large Stencil: Diamonds
Darkroom Door Criss Cross Texture Stamp
Darkroom Door Butterflies Rubber Stamp Set
Darkroom Door Stars Rubber Stamp Set
Darkroom Door Grunge Marks Rubber Stamp Set
Archival Ink Jet Black
Gesso – white and black
Tim Holtz Idea-ology Ancestors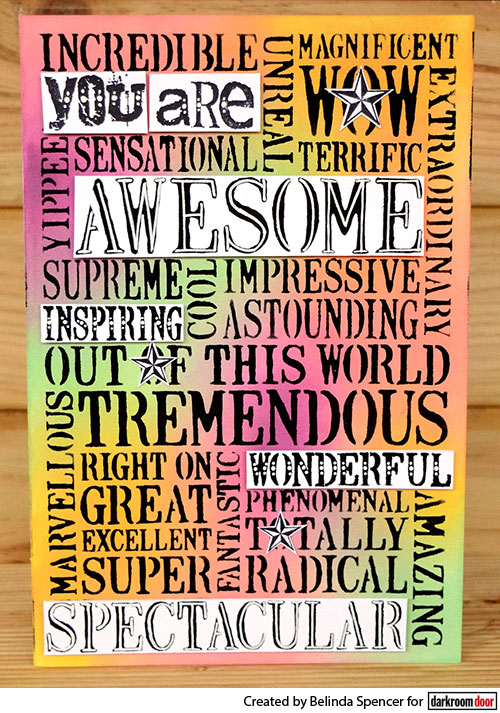 Instructions:

1. Cut a piece of smooth white cardstock measuring 9" x 12". Fold in half to form the card base.

2. Apply Distress Oxides to the card front using an ink blending tool. Here I have used a combination of Cracked Pistachio, Seedless Preserves, Wild Honey and Worn Lipstick.

3. Place the Awesome Medium Stencil over the card front and secure in place with washi tape. Apply heavy black gesso over the stencil. Remove the stencil and wash immediately. Allow the stencilled card front to dry completely and then doodle on the lettering using a fine white paint pen.

4. Apply black gesso over the stencil again but this time on a piece of extra smooth white cardstock. Allow the stencilled cardstock to dry completely. Cut out the words that you wish to highlight on your card front. Apply doodling to them also with the white paint pen. Add to the card front using 3D foam.

5. Stamp some stars from the Stars Rubber Stamp Set on the extra cardstock. Cut out and add to the card. Stamp 'you are' using the Alphabet Medley Rubber Stamp set. Cut out and add to the card front with 3D foam also.

Supplies used:
Darkroom Door Medium Stencil: Awesome
Darkroom Door Alphabet Medley Rubber Stamp Set
Darkroom Door Stars Rubber Stamp Set
Archival Ink Jet Black
Distress Oxide Inks: Cracked Pistachio, Seedless Preserves, Wild Honey, Worn Lipstick

I hope you are feeling inspired to create your own beautiful projects using this fabulous new stencil.

Thanks for stopping by the blog today.

Belinda
Awesome Stencil Art Journal and Card