Hi, it is Godelieve here. Today I'm sharing 2 cards I made with the Arty Hexagons Collage Stamp. I'm a fan of Darkroom Door's Background and Texture stamps. So I love this stamp with lots of these textures inside the hexagons. I think it is a great stamp to use in an art journal too.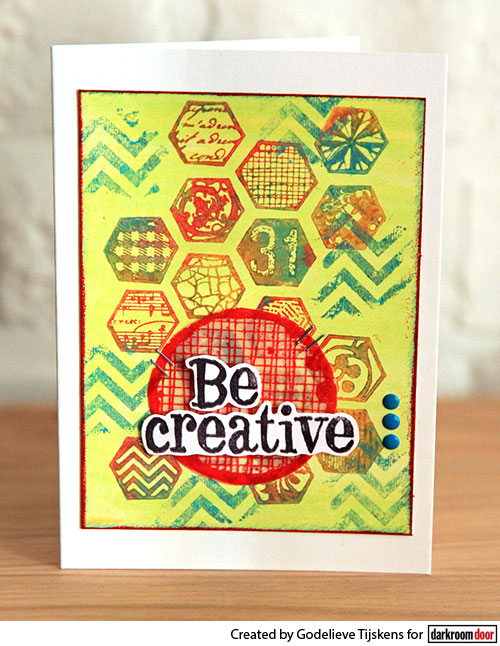 1. Select some Distress Paints and dab onto the Arty Hexagons stamp. Stamp on smooth watercolor cardstock
2. Stamp the Chevron Texture stamp randomly, using Distress Paint Salty Ocean
3. Cut to size and dab the edges with the same paint
4. Colour the paper by swiping Distress Stain Twisted Citron across the paper. Let dry
5. Ink the edges with embossing ink and heat emboss with red embossing powder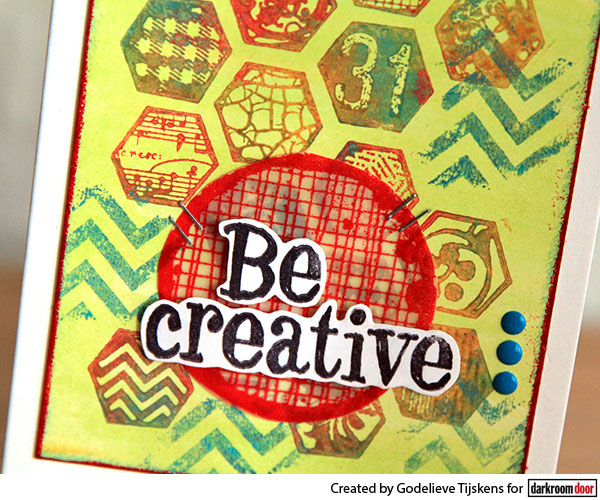 6. To do the vellum circle, stamp the Mesh background stamp and the Coffee Stain Eclectic stamp with embossing ink, heat emboss with red embossing powder.
7. Staple the cut out vellum circle onto the Arty Hexagons background
8. Ink the Being Creative Quote stamp partly using black Archival ink. Cut out "Be Creative" and adhere to the vellum circle using 3D tape
9. Add dots using Enamel Accents
10. Glue the panel to a white folded card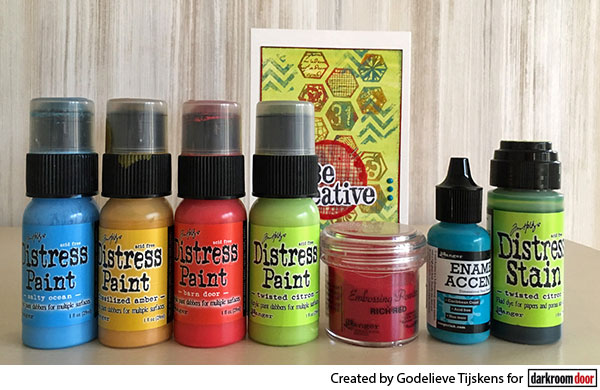 Supplies used:
Darkroom Door Arty Hexagons Collage Stamp
Darkroom Door Chevron Texture Stamp
Darkroom Door Coffee Stain Eclectic Stamp
Darkroom Door Mesh Background Stamp
Darkroom Door Being Creative Quote Stamp
Distress Embossing Inkpad
Distress Paint: Salty Ocean, Fossilized Amber, Barn Door, Twisted Citron
Distress Stain: Twisted Citron
Enamel Accents Caribbean Coast
Ranger Embossing Powder Rich Red
Tim Holtz Tiny Attacher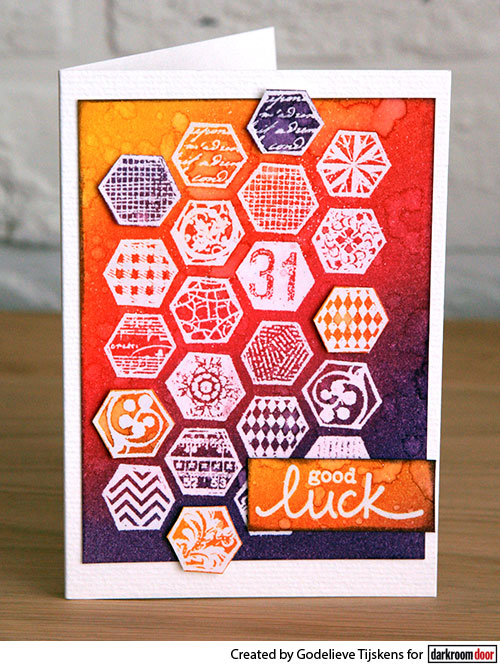 1. Stamp the Arty Hexagons stamp onto smooth watercolor cardstock using embossing ink. Heat emboss with clear embossing powder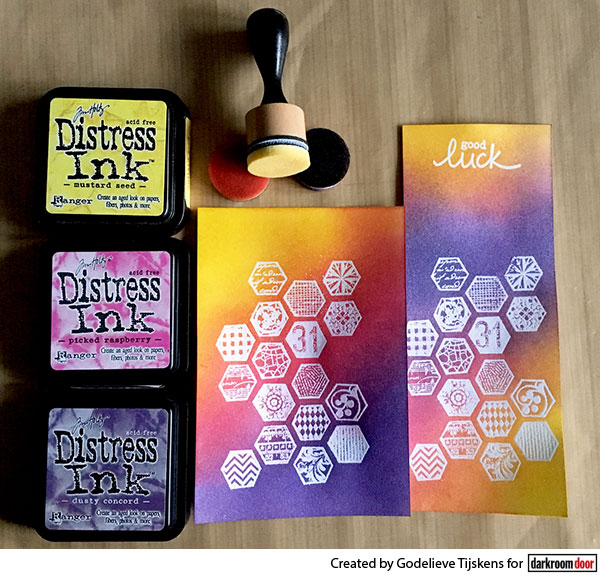 2. Choose 3 Distress inkpads to color the cardstock using an ink blending tool. The heat embossing will resist the inks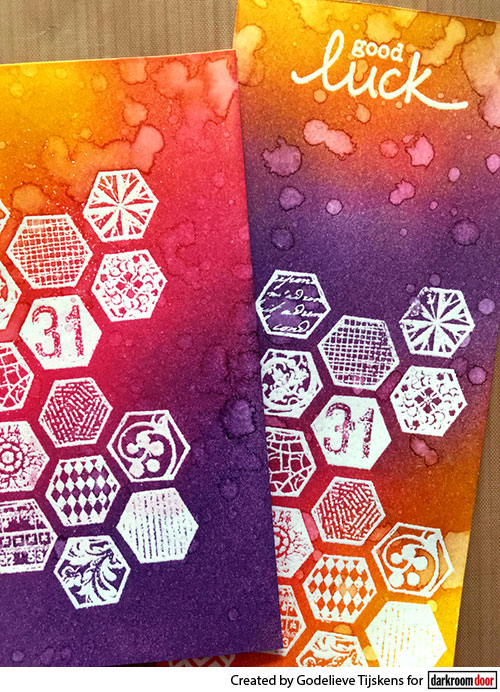 3. Flick water drops onto the background and let dry
4. Cut the cardstock to size and glue onto the card base
5. Stamp, heat emboss and ink another piece of cardstock, using the same inks. Also stamp and heat emboss a saying from the Simple Sayings set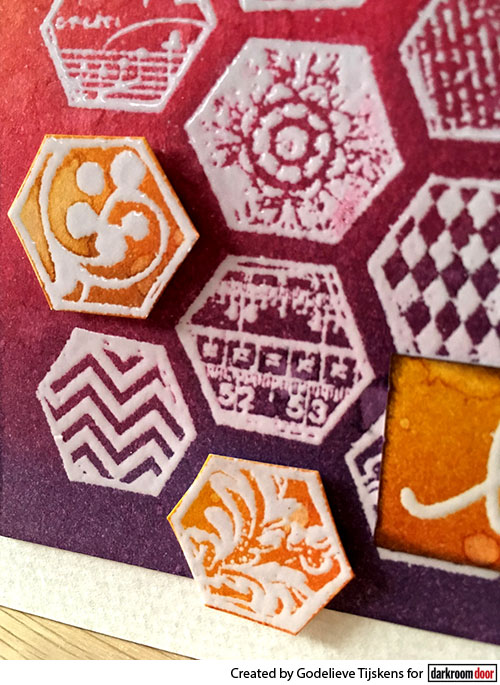 6. Cut out some of the hexagons from this second piece, use 3D tape to adhere them to the card
7. To finish off the card, attach the cut out saying

Supplies used:
Darkroom Door Arty Hexagons Collage Stamp
Darkroom Door Simple Sayings Stamp Set
Distress Embossing inkpad
Clear embossing powder
Distress inkpads: Mustard Seed, Picked Raspberry, Dusty Concord
Ranger Mini ink blending tool

Thanks so much for stopping by!
Arty Hexagons Collage Stamp Cards