Hi, it's Anneke de Clerck here. For today's blogpost I created a spread in one of my Art Journals using the Arty Circles small stencil. The art journal I worked in is not expensive at all. It's a vintage book that has sturdy pages and a linen cover. I recycled it into an art journal and to my surprise it's very nice to work in.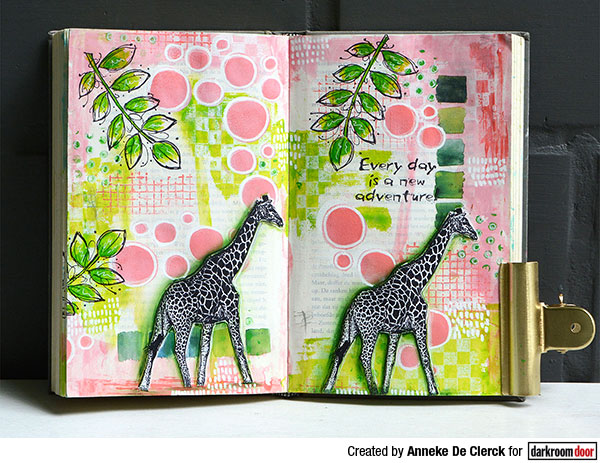 Instructions

1. Dry brush a thin coat of gesso on both text pages. Make sure the words still peek through.

2. Apply pink and lime paint randomly using a plastic card.

3. Add diluted pink and lime paint in some areas with a paintbrush. Spray water on top to create drips.

4. Create lines with the edge of a plastic card using Dina Wakley Media Paint Blushing.

5. Add green accents by transferring Jane Davenport rub-ons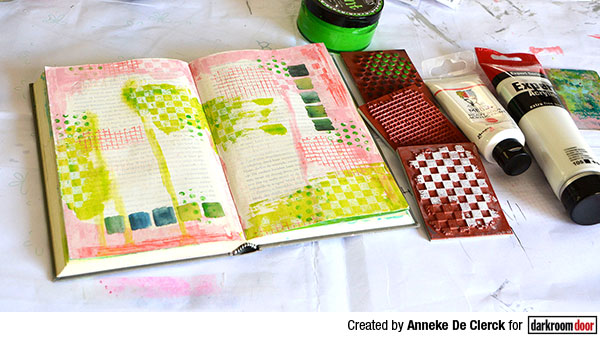 6. Stamp randomly with the Grid, Checkered and Dots Texture Stamps using pink, white and green paint.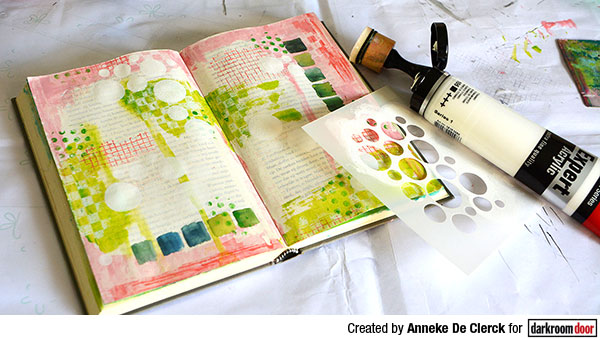 7. Create circles by sponging through parts of the Arty Circles stencil with white paint using a blending tool.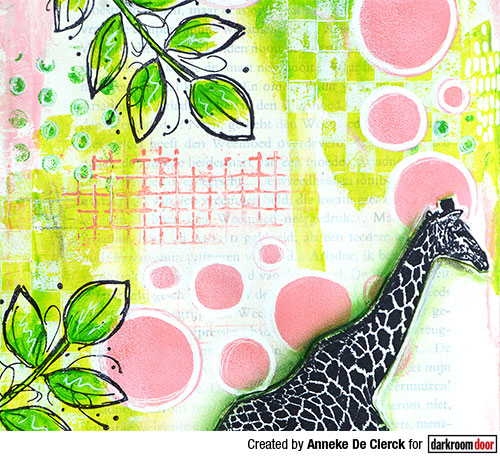 8. Sponge pink paint on top of the white paint after drying and add shading to the circles by sponging through the stencil with a thin coat of Dina Wakley Media Paint Blushing. Outline the circles with both a white fine liner and a paint marker.

9. Stamp the leaves with black ink. Paint the leaves using 2 shades of green paint. Add white details with a fine liner.

10. Stamp the giraffes on Ranger Specialty Stamping Paper, cut out and adhere to the spread.

11. Add shadow to the giraffes using a green PITT artist pen and a black charcoal pencil. Add highlights with a white pen.

12. Make marks using a white paint marker and scribble randomly with a pencil.

13. Finish the spread off by stamping a quote.

Supplies
Darkroom Door Small Stencil: Arty Circles
Darkroom Door Wild Africa Vol 1 Rubber Stamps
Darkroom Door Fine Leaves Rubber Stamps
Darkroom Door Grid Texture Stamp
Darkroom Door Dots Texture Stamp
Darkroom Door Checkered Texture Stamp
Jane Davenport Rub-On transfer sheets
Archival Ink: Jet Black
Talens Amsterdam Acrylics: Titanium White, Persian Rose, Yellowish Green
Dina Wakley Media Acrylic Paint: Blushing
Dylusions Paint: Cut Grass
Faber-Castell: PITT artist pen 'big brush' Permanent Green Olive
Ranger: Specialty Stamping Paper

Thanks for stopping by!

Anneke
Arty Circles African Art Journal Tutorial