Hi crafty folks! Teresa Abajo here today!

Who better to appreciate a handmade item than a fellow crafter? The new Artist Quote Stamp is one to which any crafter can relate. Here are a couple of cards I made with it.

First up is a bright one! I made the background with acrylic paint and a scraper - so quick, easy and effective: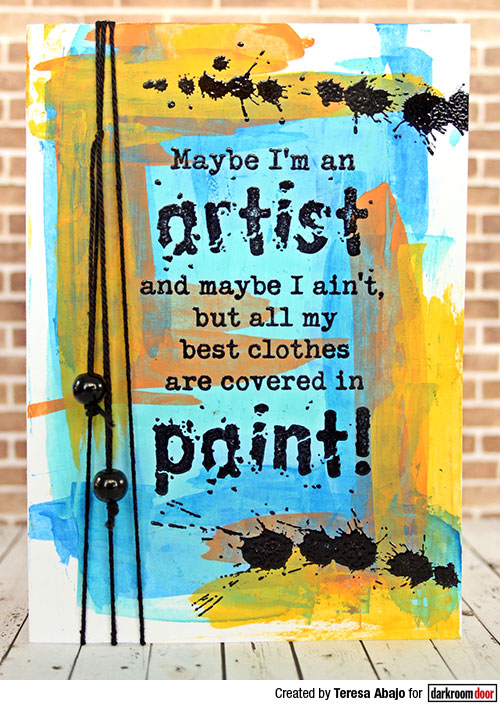 1. Scrape very small amounts of different colours of paint across the front of a folded white card. By very small I mean half a pea or less. The paint is spread so thinly that it dries almost instantly and is ready for the next colour almost immediately.

2. Ensure the paint is very well dried, then stamp the quote using Archival Jet Black ink. Emboss with clear embossing powder.

3. Stamp the droplets of paint from the Paint Splats set and clear emboss this as well.

4. Tie some black cord around the left hand side of the card near the fold, then tie some beads to the ends.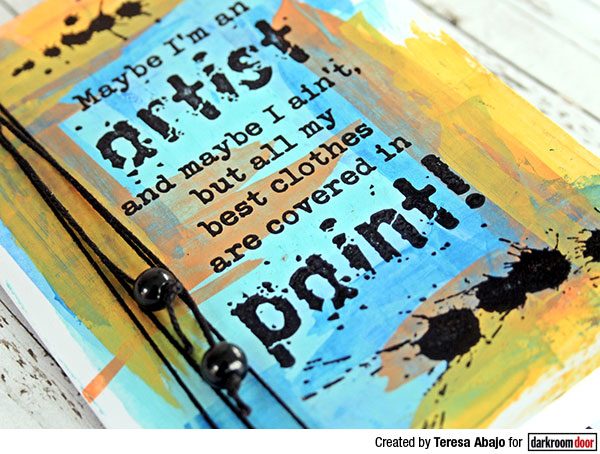 Supplies used:
Darkroom Door Artist Quote Stamp
Darkroom Door Paint Splats Stamp Set
Archival ink Jet Black
Acrylic paint various colours

The next card feels a little cleaner because of the white space, but there's still lots of opportunity to add colour: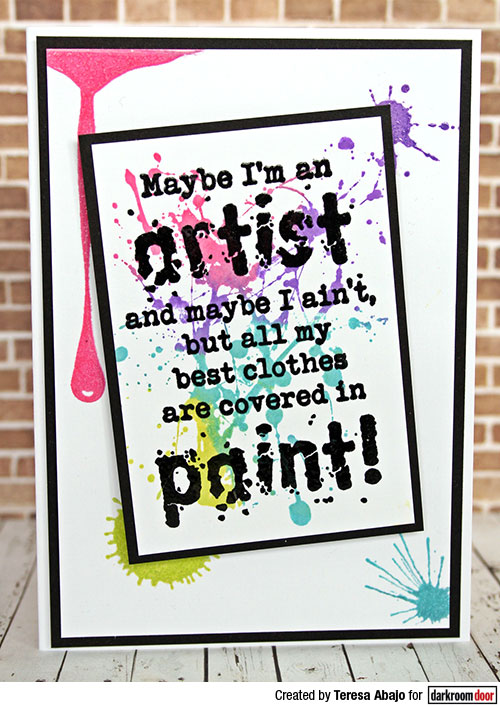 1. Ink up the paint spatter image from the Paint Splats set with a few colours of Distress Oxide ink. Stamp onto white cardstock.

2. Stamp the Artist Quote stamp over the paint spatter.

3. Trim to size then mount onto black cardstock.

4. Stamp some of the splat, spatter and drip images onto a 9.5 x 13.8 cm piece of white card in different colour Distress Oxide ink.

5. Mount this onto a 10 x 14.3 cm piece of black cardstock then onto a card front.

6. Adhere the quote piece to the front of the card at an angle.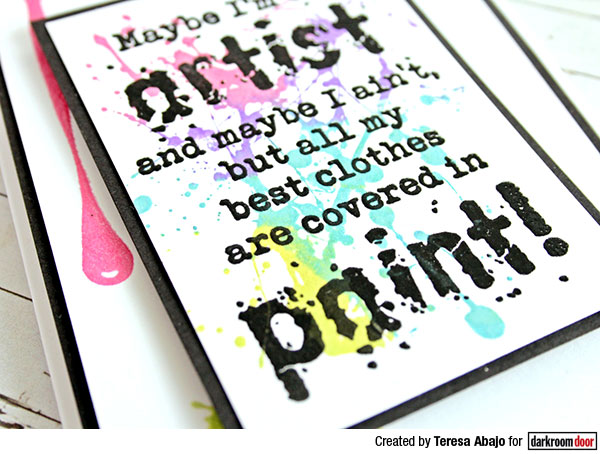 Supplies used:
Darkroom Door Artist Quote Stamp
Darkroom Door Paint Splats Stamp Set
Distress Oxide inks: Twisted Citron, Broken China, Wilted Violet, Picked Raspberry
Archival ink Jet Black

Thanks for stopping by. I hope your day is a crafty one!
Artist Quote Stamp Cards