Hello it's Autumn Clark from SewPaperPaint with you today to share the excitement of the new Border Stamp launch! As a mixed media artist, nothing thrills me more than extra large stamps to use in my journals and canvas projects. These 12" long stamps are absolutely beautiful and stamp wonderfully as they are cushioned red rubber. Today I'm sharing a spread from my cardboard junk journal featuring the Art Studio Border Stamp.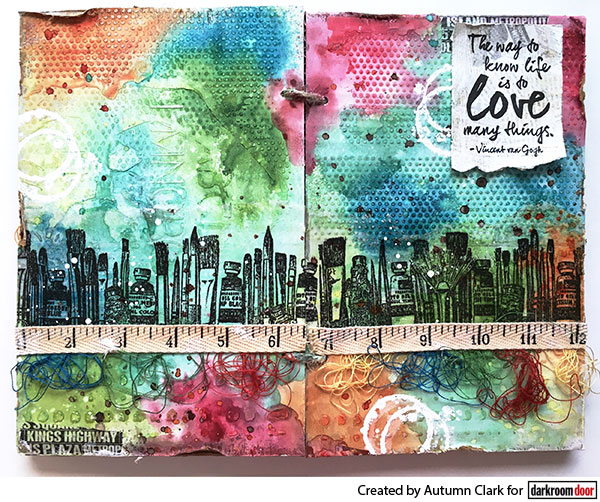 I made my journal by adhering cardboard sheets together with jute. Because I wanted a textured background, I stamped the Art Studio Border Stamp onto tissue paper and then adhered to my inky background. This is a wonderful way to get a crisp image, but it takes a little patience. Due to the tissue paper having a waxy backing, it takes a little while to dry. Make sure to stamp over a sheet of paper and blot your image, then heat set, blot, and heat set again. When you adhere it to your project with wet glue, the result is transparent allowing your background to shine through.

I created an artful background using stencils and spray inks. I wanted the row of paint brushes to represent pure play. Because I often work in a vintage color palette, I added this beautiful quote from the Amsterdam Volume 2 Stamp Set to remind me to break out of my comfort zone and embrace more vibrant colors.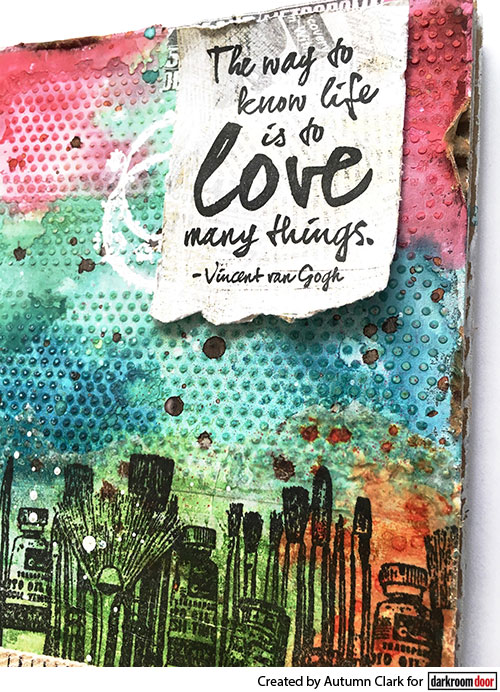 For additional texture and dimension I added a strip of twill ribbon and bundles of colored thread below my stamping. I went back and embossed the coffee cup stains from the Coffee Time Stamp Set because there wasn't enough contrast with them stamped in gesso. The white embossing adds crisp contrast against the colorful background.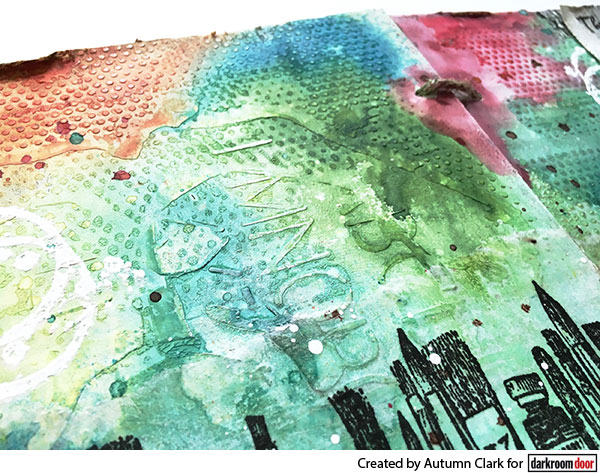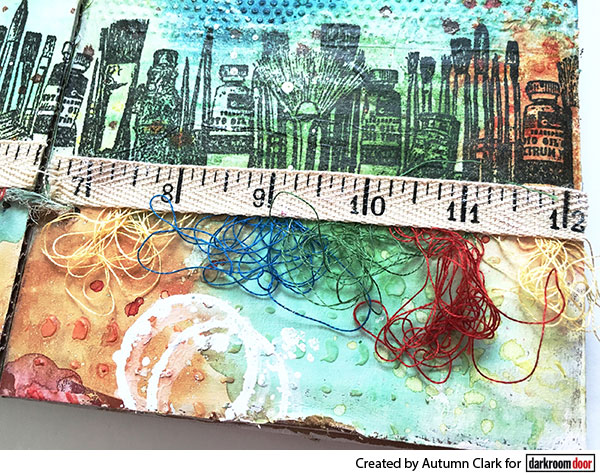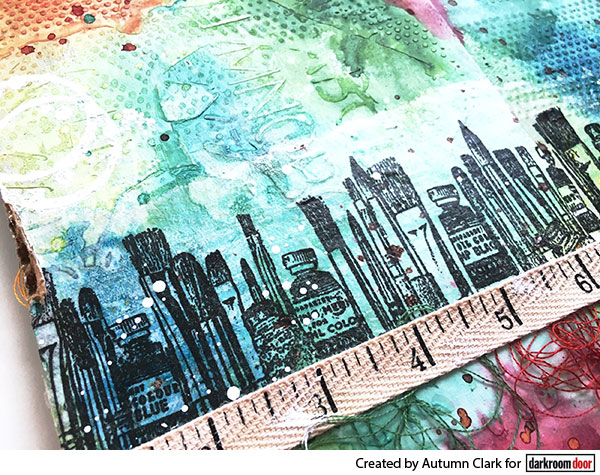 I have a little process video for you that you can see here:

Stamps used:
Darkroom Door Art Studio Border Stamp
Darkroom Door Amsterdam Vol 2 Rubber Stamp Set
Darkroom Door Coffee Stain Eclectic Stamp

Next week I will share a spread using the new Star Border Stamp, along with many tips and techniques for you to use in your own journal play.

Thanks for stopping by!
Art Studio Border Art Journal Page