Hi folks! Teresa here with a couple of samples I made using the new African Trees Stamp Set.

This set consists of silhouettes of not only trees, but also a few handy animals. My mind immediately drifted to the many amazing sunset photos I've seen of African sunsets, so I created this card first up: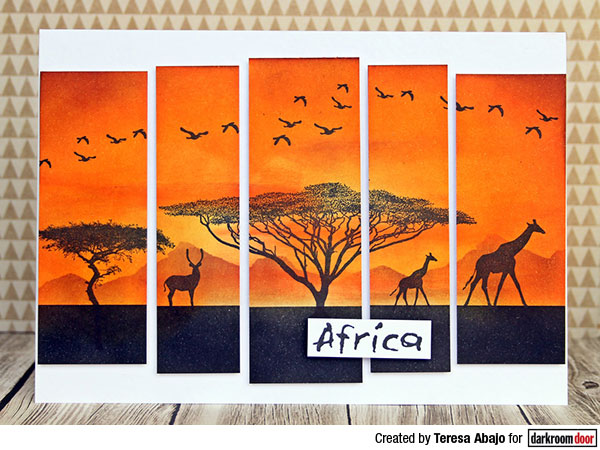 I sponged some yellow, orange, red and brown Distress Inks to create the warm glowing sky.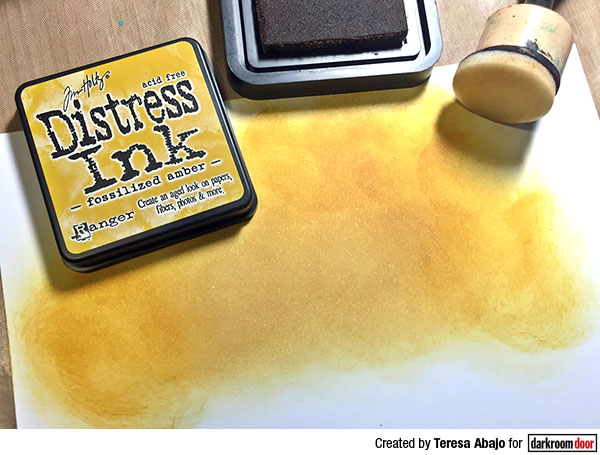 Then I tore some sharp peaks in a Post It Note to use as a mask to create some mountains in the distance. I sponged these with brown Distress Ink: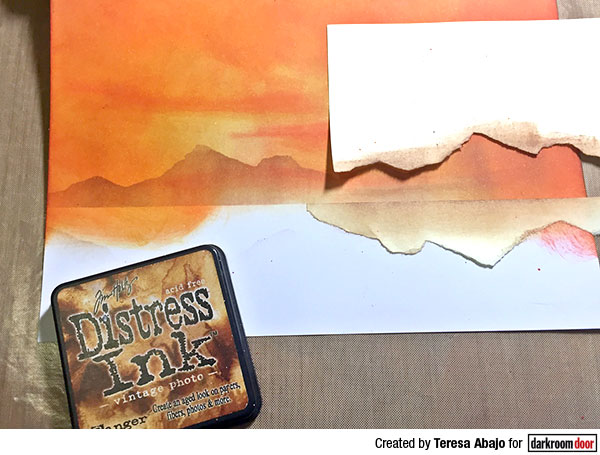 Then I sponged some black ink below the horizon line. This will be where the trees and animals will sit when I stamp them in black Archival ink: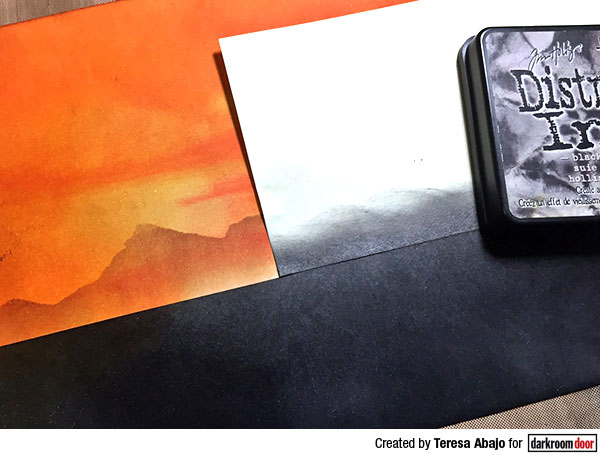 I made sure the base of the trees and the feet of the aminals was just slightly below the horizon, otherwise they'd look like they were jumping up in mid air.

I then cut this piece into panels and adhered them to the front of a white card. The birds stamped at the top provide a continuity through all the panels.

Supplies used:
Darkroom Door African Trees Rubber Stamp Set
Distress Inks: Scattered Straw, Fossilised Amber, Carved Pumpkin, Ripe Persimmon, Vintage Photo, Black Soot
Archival Ink: Jet Black

Next up I wanted to use the cute little elephant silhouette to hold a balloon on a birthday card:

I stamped the elephant in grey, then cut him out. I inked up the balloon from the Party Time stamp set using some green/blue Distress inks, and stamped it directly onto the 13.8 x 9.5 cm top piece. The elephant was adhered over the top of the balloon string using foam tape.

I mixed the same Distress ink colours on the edge of an acrylic block, spritzed and applied the colours to the edge of a card that is slightly larger than the top piece. I stamped the sentiment using the darkest blue Distress Ink and adhered it to the top left hand corner with foam tape. The sequins were added using Glossy Accents.

Supplies used:
Darkroom Door African Trees Rubber Stamp Set
Darkroom Door Party Time Rubber Stamp Set
Darkroom Door Happy Birthday Rubber Stamp Set
Distress Inks: Peacock Feathers, Mermaid Lagoon, Blueprint Sketch
Archival ink: Watering Can

For this last card, I wanted to have a parade of animals with a pop of colour for a fun birthday card: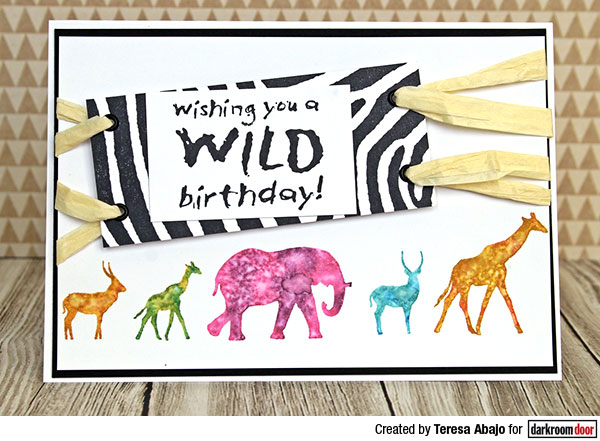 I place all of the animal silhouette stamps on an acrylic block, ensuring their feet where all on the same line. I then coloured each stamp with Distress Markers before spritzing and stamping. This allowed the colours to blend well and create a watercolour look.

The sentiment comes from the Wild Africa Vol 1 set, and is layered over a piece that has been stamped with the Zebra BackgroundStamp

Supplies used:
Darkroom Door African Trees Rubber Stamp Set
Darkroom Door Wild Africa Vol 1 Rubber Stamp Set
Darkroom Door Zebra Background Stamp
Distress Markers: Fossilised Amber, Carved Pumkin, Barn Door, Picked Raspberry, Wilted Violet, Salty Ocean, Mowed Lawn, Peacock Feathers
Archival ink: Jet Black

Thanks for stopping by!
African Trees Cards