Hi there, Joy Taylor here bringing you a simple technique card and pretty much a one layered card. I just adore the latest release from Darkroom Door called Wild Africa, so many possibilities with this release and I am sure you have been seeing loads of inspiration here on the blog and around cyber world.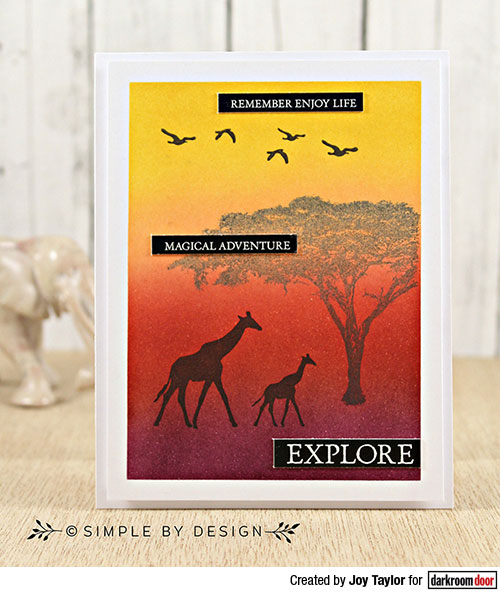 I took a piece of white card stock, that I taped around the edge to mask off, just eyeballing this, then using Tim Holtz distress inks and applied Seedless Preserves, Fired Brick, Dried Marigold and Mustard seed, I applied each of these colours fairly heavily, going back and forth between colours so they would blend nicely together, once I was happy with the overall effect, I took off the masking and took out the stamps from the African Trees, I positioned them where I wanted the layout of the scene to be, starting out with one of the trees. I chose to put the masking back on one side of the card stock as I wanted the tree to once inked and stamped to be contained only onto the blended part, so inking up the stamp I stamped out the tree and removed the masking. I then stamped out the giraffes to the other side of the trees as if they were running through the African landscape. I finished off the stamping by stamping out the birds flying in the sunset sky, next was to add some sentiments, by which I took from the word strips, adding 3 of these throughout the scene. Mounted the panel to a white card base and the card was complete.

Supplies used:
Darkroom Door African Trees Rubber Stamp Set
Darkroom Door Prague Vol 2 Wordstrips
Distress Inks: Seedless Preserves, Fired Brick, Dried Marigold, Mustard Seed
Archival Ink Pad: Jet Black
A5 Smooth white cardstock

Thanks for stopping by today!
African Trees Card