Hi there, I'm Heather Telford and I am happy to be back at Darkroom Door sharing three different techniques for creating colourful backgrounds to use behind the atmospheric path stamp from the Wilderness Vol 2 Stamp Set. I love the pretty overhanging trees in this image and decided to try it over a series of backgrounds to get some seasonal scenes.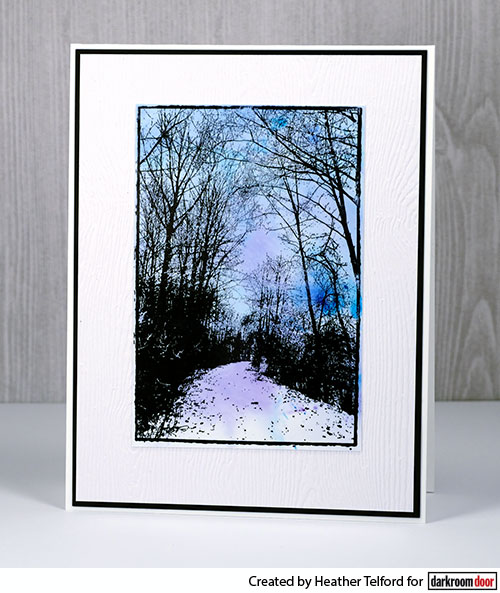 My winter scene background was created on glossy photo paper, with the colour from brusho paints. I sprinkled turquoise, violet and prussian blue on a craft sheet, spritzed with water then swiped photo paper through the paint. I think this background was probably the second panel I pulled through the paint because the colours are soft and blended. Once the panel was totally dry I stamped with stazon jet black ink. The sharpness of the image is quite amazing on photo paper and yupo; it's possible to see every little twig.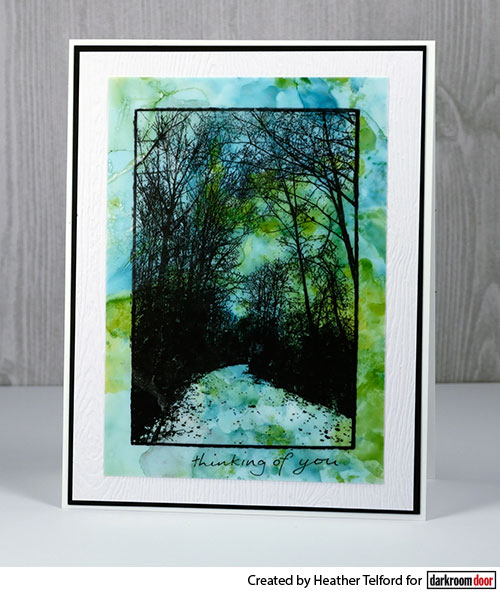 For my summer scene I created an alcohol ink background on yupo paper with meadow and aqua alcohol inks. I dropped the inks on opaque white yupo and let the colours move and blend. I spread and diluted them a little with some blending solution then let the panel dry. I chose the 'path' stamp from the Wilderness Vol 2 stamp set and stamped it in jet black Stazon ink.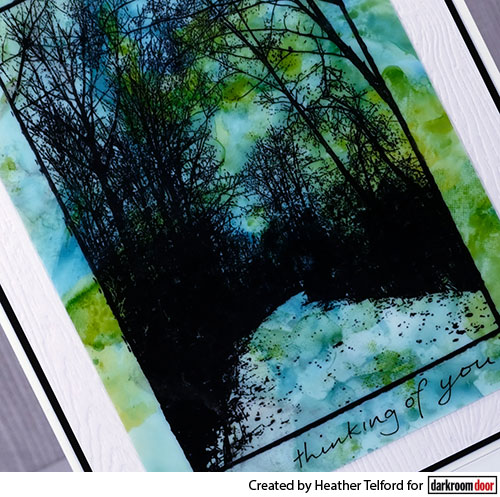 I have recently switched to a new method when stamping yupo and photo paper; I lay the stamp down flat, ink it thoroughly then press the paper panel face down on top. I rub the back of the paper panel all over for a good impression. To complete the summer scene I handwrote a sentiment with a Sakura micron pen.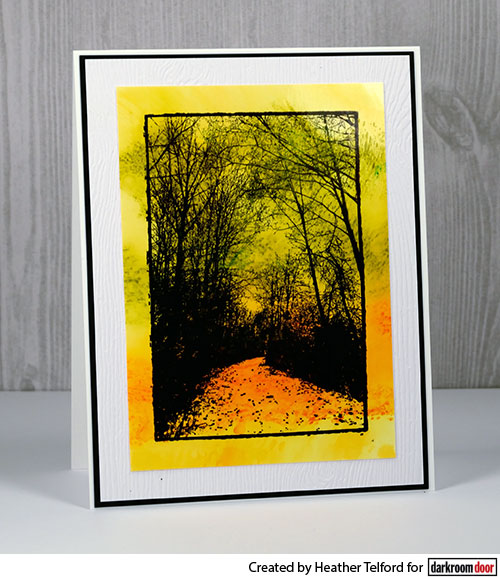 My fall scene background was created with distress oxide inks on glossy photo paper. I pressed the distress oxide inks (spiced marmalade, fossilized amber & a little peeled paint) onto a craft sheet, spritzed the ink, then swiped my photo paper through the ink to pick up colour. The photo paper stays wet for a while so I let it air dry then stamped the wilderness path image in jet black stazon ink. Once again I inked the stamp and laid the paper face down onto the stamp. The stamp clings to the photo paper so I was able to peel up a corner, check the impression and add more ink if necessary as long as I kept one half of the panel firmly stuck to the stamp while I re-inked the other half.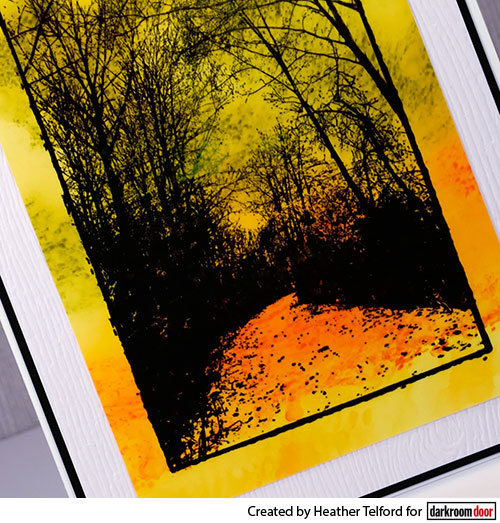 I finished all the cards by matting with wood textured white paper and black cardstock before attaching to a white card base.

Supplies used:
Darkroom Door Wilderness V2 Rubber Stamp Set
Ranger Alcohol inks: Meadow & Aqua
Distress Oxide Inks: Spiced Marmalade, Fossilized Amber, Peeled Paint
Brusho Paints: Violet, Turquoise, Prussian Blue Colourcraft
Stazon ink: Jet Black
Sakura Micron Pen - Black
Opaque Yupo paper
Glossy photo paper
White Wood textured cardstock
Black & White cardstock

Thanks for stopping by today!
3 Seasonal Background Techniques